For Reynolds, elbow rehab was 'worth the try'
For Reynolds, elbow rehab was 'worth the try'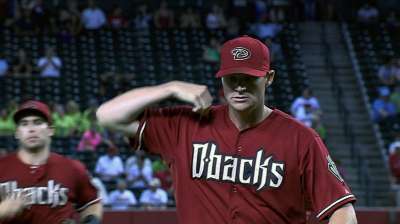 PHOENIX -- When his elbow strain was first diagnosed in June, D-backs reliever Matt Reynolds thought he had a good chance of avoiding Tommy John surgery.
And for a few months, rehab seemed to have been a good decision as the left-hander was pain free and working his way back. Then last Thursday while throwing live batting practice, Reynolds felt a sharp pain in his elbow.
"Even the first half of that live batting practice session, my arm was feeling good," Reynolds said. "I felt like I was throwing the ball pretty well, so it's kind of a bummer."
Reynolds underwent more tests, which revealed that he had almost a complete tear in the posterior bundle of ligaments and his anterior bundle was stretched and strained.
Dr. James Andrews will perform Tommy John surgery next Tuesday, and Reynolds will all but certainly miss the entire 2014 season.
"It's one of those things where potentially if everything goes well like we hoped it would have, then I could have totally avoided the surgery," Reynolds said. "We knew that it was a possibility, that we could still have this happen, but both the doctors and I came to the conclusion that it was worth the try not to have surgery right away."
Reynolds, whom the D-backs acquired during the offseason, was having an outstanding year at the time of the injury. In 30 games he had a 1.98 ERA and was playing a big role in the bullpen.
"To an extent, you feel a little bit invincible when you're young and then all of a sudden this comes up and you're like, 'Whoa,'" D-backs manager Kirk Gibson said. "It's a wake-up call. He's going to Andrews, and if you're going to go have anybody do it, he's going to be the best guy."
Steve Gilbert is a reporter for MLB.com. Read his blog, Inside the D-backs, and follow him on Twitter @SteveGilbertMLB. This story was not subject to the approval of Major League Baseball or its clubs.