Feeling 'great,' Kershaw understands call for rest
Feeling 'great,' Kershaw understands call for rest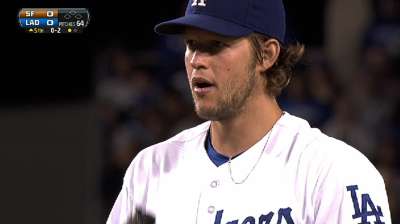 PHOENIX -- Clayton Kershaw said he feels "great" and doesn't need the three extra days of rest he'll get this week as the Dodgers have pushed his start back from Wednesday night in Arizona to Saturday in San Diego.
Stephen Fife will make the spot start Wednesday night against the D-backs.
"I don't know if protect is a good word," Kershaw said of the precautionary move made because he's already thrown a Major League-leading 223 innings. "They want me to be well-rested if I pitch deep [into October]. I don't think I need it, but I'm not going to argue about it."
Kershaw said because of an increased offseason conditioning program, he feels "way better than last year at this time," when he was forced to skip a start with an inflamed hip.
Manager Don Mattingly downplayed media speculation that the move was fueled by a desire to set up the rotation for the postseason, to have his ace lefty pitching one day before Zack Greinke instead of after him.
"I haven't thought that far off," Mattingly said about the postseason, then adding, "That will be a benefit of this. Clayton fought us a little bit. He knows we're trying to take care of him. Ned [Colletti, general manager] has been concerned, the whole organization I think, about keeping his innings down. He's only got two more starts and we felt this was the right time."
Fife will start Wednesday, Ricky Nolasco on Thursday, Edinson Volquez on Friday and Kershaw on Saturday. But Mattingly also said Greinke will pitch on regular rest Sunday. Monday is a day off and Hyun-Jin Ryu will start Tuesday in San Francisco, followed by Nolasco and Volquez.
Ken Gurnick is a reporter for MLB.com. This story was not subject to the approval of Major League Baseball or its clubs.