Hanley, Kemp return to starting lineup for Dodgers
Hanley, Kemp return to starting lineup for Dodgers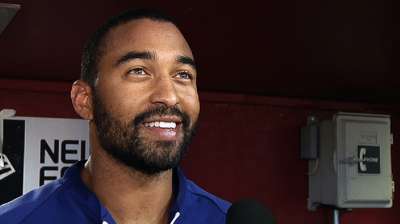 PHOENIX -- Hanley Ramirez and Matt Kemp returned to the Dodgers' lineup Tuesday night, the former expected by manager Don Mattingly, the latter not so much.
Mattingly said the way Ramirez hit soft-toss Monday, he was confident the shortstop had responded sufficiently to spinal injections to return. Ramirez batted third against the D-backs.
But Mattingly said he was surprised when Kemp ran the bases in an early workout Tuesday. Mattingly said Kemp did it "without hesitation and that was all we needed. That made it nice. A good surprise."
Kemp, who was activated from the DL and struck out as a pinch-hitter to end Monday's 2-1 loss, wasn't exactly full speed around the bases in the workout, but he was clearly more confident than a day earlier. Kemp batted fifth.
Mattingly said that Carl Crawford, out with a stiff lower back, had improved enough to take batting practice on the field and might be a day or two away.
Andre Ethier still wears a protective walking boot for his sprained left ankle, but Mattingly said his progress has been steady. He said Ethier will be out longer than Crawford, "but I don't feel like it's 10 days or anything."
Also returning to the lineup was Scott Van Slyke, who was sidelined the past several days with a slight rib-cage strain and played left field.
Ken Gurnick is a reporter for MLB.com. This story was not subject to the approval of Major League Baseball or its clubs.