Brewers to evaluate team with 2014 in mind
Brewers to evaluate team with 2014 in mind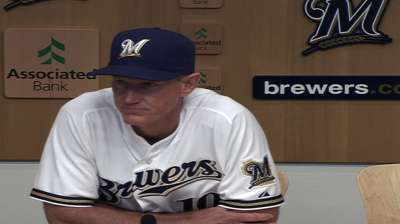 MILWAUKEE -- Brewers baseball operations officials, including manager Ron Roenicke and his coaching staff, were scheduled to gather Wednesday morning in the Miller Park war room to dissect the roster with an eye toward 2014 and discuss what went wrong this season.
Some of the answers are obvious. Injuries eliminated much of the heart of the Brewers' batting order long before Ryan Braun was lost to suspension. The starting pitching was awful early on, particularly in May, when a 6-22 record took the Brewers out of contention.
Still, general manager Doug Melvin wants to hear ideas about how individual players and the team as a whole can be better in 2014.
"We visit all year, but this is an opportunity to review all of the statistical stuff, get everyone up to date about some of our Minor League guys, and to go over all of our players," Melvin said. "Some of it is philosophical stuff, like building a team for our ballpark, which presents some challenges. We'll look at our pitching here versus on the road -- is that something we have to be concerned about, or a one-year thing?"
Melvin already met individually with Milwaukee coaches during the Brewers' last road trip.
Roenicke characterized such meetings in the past as candid.
"I voice my opinion," Roenicke said. "I may be a little different than the coaches, but our coaches are pretty honest about what they see. It's important to be honest. Say Doug likes somebody and everybody says, 'Oh, yeah, yeah, yeah, I like him, too,' and now that guy doesn't turn out well. It's like, 'Why didn't any of you guys tell me he had these flaws?'
"My responsibility to Doug and to [owner] Mark [Attanasio] is what I see. You want to be optimistic about all of your players, but you better talk about the things that you see that could happen."
Club officials will take particular care to evaluate their young pitchers along with first base and second base, their two most unsettled positions. In Roenicke's view, the Brewers are only a few minor moves and a big dose of good health from being competitive.
"I don't think there needs to be big moves," Roenicke said. "I don't know if we can make big moves. I think the big moves are going to be how these young guys, especially on the mound, end up for us. If they can progress the way we think that they can, that's a big move."
Adam McCalvy is a reporter for MLB.com. Read his blog, Brew Beat, and follow him on Twitter at @AdamMcCalvy. Kevin Massoth is an associate reporter for MLB.com. This story was not subject to the approval of Major League Baseball or its clubs.