A's close in on AL West title with walk-off win
A's close in on AL West title with walk-off win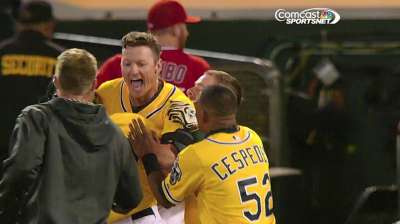 OAKLAND -- Michael Kohn didn't get the job done. Josh Donaldson did, walking off the A's for a third time this year for a 2-1 victory over the Angels on Tuesday night to narrow Oakland's magic number to win the American League West to six.
"Any time you get a hitter 0-2," Kohn said, "it's time to put him away in that situation. I didn't do my job there, [didn't] elevate it high enough, and it's why he's an All-Star. He's a good player."
Yes, in the same way many people couldn't understand why Donaldson was left off the AL All-Star squad, they're having a hard time believing and remembering he actually wasn't one.
Oakland's third baseman still resembles one, though.
Donaldson's game-winning hit in the ninth inning was his eighth hit in 11 tries with the bases loaded this season, including his second in four attempts with two outs. He has 16 RBIs in such situations, the seventh-best mark in the AL.
"We feel good about him any time in situations like that," said manager Bob Melvin. "Behind in the count, it looked like he was trying to drive one out, then shortened his swing with two strikes and went the other way. We've seen him do that all year."
"He's done a great job," said Jed Lowrie. "Pretty much all year he's been locked in. He's doing a really good job of staying on top of balls and not trying to do too much in situations like that. That breeds a lot of success."
Lowrie had his own role in the winning formula, though he didn't have to do much to contribute, thanks to some forward thinking from Jemile Weeks.
Pinch-running for Alberto Callaspo, who singled off Kohn to lead off the frame, Weeks showed off his speed by tagging up on Stephen Vogt's ensuing fly ball to left field, forcing the Angels' hand to intentionally walk Lowrie.
"It was kind of an in-between decision," Weeks said. "I actually went halfway to second and then just decided I had an opportunity to get there, so I ran back and went for it. It was timely. I think if we don't get that there, I'm 100 percent thinking of stealing the base that next at-bat, so the first opportunity that arises to get to second, that's what I was trying to do, to get in scoring position for the guys."
Next up was Coco Crisp, who proceeded to put together what Lowrie deemed "might be the at-bat of the year." Crisp swung through the first two pitches he saw from Kohn, first a changeup and then a fastball, clocked at just 89 mph. The next one had some heat on it, and Crisp fouled off the 97-mph offering. Seven pitches later, having fouled off three more, he took ball four to load the bases.
Daric Barton, facing a five-man infield, struck out for the second out of the inning. There wouldn't be a third, thanks to Donaldson, who has reached base in 22 straight games.
"I know JD got the big hit, but Coco's at-bat was, up to this point, might be the at-bat of the year, the way that he was able to grind that at-bat and give JD an opportunity to get that hit," Lowrie said. "It was a really big at-bat, and that's not to take away anything from JD. I just think Coco did a really good job in that at-bat."
Before that inning, the A's had gone just 1-for-9 with runners in scoring position. It's a weakness that's been exposed every so often this season, one that could potentially haunt the A's in the postseason, should they reach it as expected with a 6 1/2-game lead over the Rangers with 11 games to play.
Just the same, their strengths could keep them in it, and pitching rests at the top of the list.
Outside of Mike Trout's home run in the first inning that gave the Angels a 1-0 lead the A's would wipe away on Brandon Moss' RBI double minutes later, Sonny Gray gave up just four other hits in six solid innings, walking one and fanning five to keep his home ERA at 1.26 through five starts.
A struggling Ryan Cook found trouble in the seventh, getting two quick outs before loading the bases on a single and two hit batsmen -- he's allowed 21 hits, six runs and seven walks in his last 10 innings -- in advance of Jerry Blevins' entrance with the bases loaded.
Blevins, having already fanned Josh Hamilton six times in 10 at-bats, got him again on strikes, ending the inning. Sean Doolittle pitched a scoreless eighth and Grant Balfour struck out the side in a perfect ninth.
"We've done that before with Blevins and Hamilton," Melvin said. "That's kind of his guy. He's faced him a few times. He's not the easiest guy in the world to have to face in those situations with nowhere to put anybody, so that was a big out in the game."
One of many that was somewhat forgotten by the time Donaldson stepped to the plate, like Josh Reddick's spectacular diving grab of what initially appeared to have the makings of a Mark Trumbo extra-base hit in the sixth inning.
"Tonight really was a team win," said Gray. "Everyone really played their part."
Jane Lee is a reporter for MLB.com. This story was not subject to the approval of Major League Baseball or its clubs.