Cozart sees improvement after focusing on approach
Cozart sees improvement after focusing on approach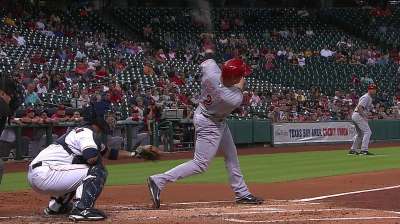 HOUSTON -- At some point while struggling at the plate, Reds shortstop Zack Cozart stopped focusing on the results of his decisions as a hitter and what needed to be done during the at-bat itself.
And wouldn't you know it? The results have been pretty good.
Cozart, who was moved down from the second spot to the bottom third of the lineup, is batting .305 over his past 44 games since July 30. He's been working at driving the ball to the opposite field.
"I think it's really the first time in my career -- the past two months -- that I focused on my approach," Cozart said. "That's all I think about up there, my certain approach. It kind of clears my mind of everything else. You just have that one thought, and all of a sudden you just see the ball and hit it. I've been hitting a lot more balls to right-center and right field and that's been my approach."
During the Reds' 6-1 win over the Astros Monday, Cozart was 2-for-4 with a two-run home run and four RBIs. It snapped a 1-for-15 skid that came on the heels of his career-best 15-game hitting streak. During that streak, he batted .373 (22-for-59).
On the homer in the top of the second inning, Cozart pulled a 3-1 changeup from Erik Bedard to the left-field Crawford boxes. In the fourth, he went the opposite way and lined a two-run single to right field.
"I'm going to pull balls. I can pull the ball with anybody," Cozart said. "If they throw it middle, in or whatever, if I'm in the right spot, I'm going to pull it. If I just stay with my approach to right-center like I have the past couple of months, I feel pretty good out there."
In a 10-0 win over Houston on Tuesday, Cozart added three more RBIs to give him seven for the series and eight in his last three games. He hit a two-run single to right field in the first inning and a two-out RBI single to right-center field in the third.
Mark Sheldon is a reporter for MLB.com. Read his blog, Mark My Word, and follow him on Twitter @m_sheldon. This story was not subject to the approval of Major League Baseball or its clubs.