McLouth feels lucky to be healthy
McLouth feels lucky to be healthy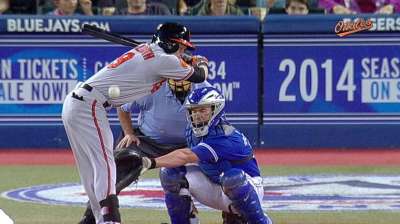 BOSTON -- Nate McLouth feels like he's been lucky to avoid the injury bug this season. He feels even luckier after dodging a serious one on Sunday.
McLouth was hit by a pitch in his right knee and felt his whole leg go numb for a moment, but feeling soon came back and he's now just dealing with general soreness.
In his the third full season since he broke into the Major Leagues seven years ago, McLouth was thrilled the injury was nothing serious.
"I've learned after having struggled for a few years, having had ups and downs throughout my career, I just don't take anything for granted in this game," said McLouth, who has contributed 1.9 wins above replacement, the second highest mark of his career. "I know how fortunate I am to have the opportunity to play here and be here every day. You just don't know when your last day is going to be. So I just really have taken the approach to enjoy it for what it is, because it really is an awesome opportunity that we all have in here."
McLouth entered Tuesday's game eight at-bats away from the 500 mark. Due to injuries and lack of playing time, this is just the third time in his career he's approached 500 at-bats.
McLouth followed up his breakout season in 2008 -- in which he hit 26 homers on his way to his first and only All-Star selection -- with 20 homers in '09. But he hasn't played a full year since.
Manager Buck Showalter said he's been impressed with McLouth's ability to bounce back from a few rocky years to post a .744 OPS while stealing 30 bases and playing a strong defensive outfield in 2013.
"He's just a solid baseball player, a guy you can count on every day," Showalter said. "You know what he's going to bring, he's been in both leagues, been in the fight a lot. I like the fact that he's got his nose bloodied some throughout his career and got back off the deck. He's a tough guy. He fits us well."
Jason Mastrodonato is a reporter for MLB.com. Follow him on Twitter @jmastrodonato. This story was not subject to the approval of Major League Baseball or its clubs.