Vet Polanco appreciates ovation, cheers in Philly
Vet Polanco appreciates ovation, cheers in Philly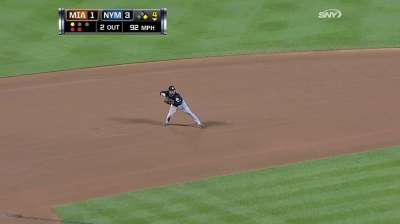 PHILADELPHIA -- Placido Polanco has plenty to think about this upcoming offseason as he contemplates his future in baseball.
In 109 games for the Marlins this year, the career .297 hitter has hit .250 with a .305 on-base percentage. Polanco, who at 37 is completing his 16th Major League season, has dealt with concussion-like symptoms after getting hit in the head by a pitch in August, but has been able to avoid the type of injuries that cost him time last season with the Phillies. To that end, it's not a stretch to believe he still has something left in the tank.
But the end of his career is closer than the start of it, and that's what made a moment on Monday just a little more special, when Polanco stepped to the plate in the fifth as a pinch-hitter and drew a rousing ovation from Phillies fans. Polanco, who played parts of seven seasons over two stays with Philadelphia, admitted to getting caught up in the moment.
"I always appreciate the fans. I mean, c'mon, that's why we're here," Polanco said. "Everybody supported the team for a long time, and it's just a matter of time before it's a full house [at Citizens Bank Park] again. I remember when I played here and we went to Washington, there were more of our fans than Washington's.
"I did a little wave -- thanks. Now I have Cliff Lee."
Polanco will decide on his future when the season ends, but has been around long enough to understand how to play a full 162-game season no matter what the standings indicate. He remains as competitive as ever and still enjoys the game.
"I get a headache every time we lose. I'm not sure if that's the concussion," Polanco joked. "After a tough year like last year, I'm glad I played as many games as I did.
"Still have a week, two weeks, yet. I have plenty of time to think about what is going to happen next year. It has to be close to home or home. Wife, kids and family is ready for me to be home now. I was at home most of the time."
The reception given to Polanco, and to a lesser extent Juan Pierre, didn't go unnoticed by Marlins manager Mike Redmond.
"You want to be respected for what you did on the field, and to get that admiration is a testament to them," Redmond said. "He's not a guy that shows a lot of emotion. That shows where guys are in their career. As you get farther along, you start to get a little more sentimental about the game."
Michael Radano is a contributor to MLB.com. This story was not subject to the approval of Major League Baseball or its clubs.