Hendriks or De Vries to start Sunday vs. Oakland
Hendriks or De Vries to start Sunday vs. Oakland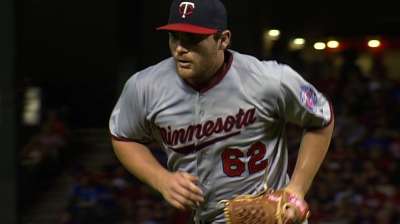 CHICAGO -- Twins manager Ron Gardenhire said he hasn't decided whether Liam Hendriks or Cole De Vries will start against the A's on Sunday.
Hendriks recorded just two outs in his start against the White Sox on Monday night, allowing seven runs on five hits and three walks. De Vries pitched in long relief, surrendering four runs on six hits and three walks over five innings.
Hendriks has posted a 6.87 ERA in eight starts this year, while De Vries has a 7.88 ERA in two relief appearances totaling eight innings.
Gardenhire said he'll meet with the pitchers and pitching coach Rick Anderson to make a decision on who will make the start in Oakland.
"We have a few of days to figure it out," Gardenhire said. "We used two pitchers last night and I guarantee you one of those pitchers will make that start. It's a 50/50. We'll let Andy sit down and talk to both pitchers and figure out the way to go."
Rhett Bollinger is a reporter for MLB.com. Read his blog, Bollinger Beat, and follow him on Twitter @RhettBollinger. This story was not subject to the approval of Major League Baseball or its clubs.