No longer focused on velocity, Ubaldo finds top form
No longer focused on velocity, Ubaldo finds top form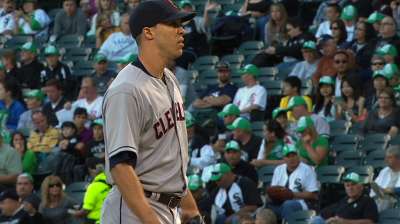 KANSAS CITY -- There are times when Ubaldo Jimenez is tempted to take a peek at the reading on a stadium's radar gun. The Indians' starter allows himself to look every now and then, but he is no longer consumed with pitch velocity like he was over the past two seasons.
"I'm not paying attention to that now," Jimenez said Tuesday. "That's something that I was working on [in the past]. Everybody was telling me, Velocity, velocity, velocity.' So I was trying to get back to who I was velocity-wise."
Jimenez has come to accept that he is no longer the same hard-throwing pitcher he was in his Rockies days, when he led the Majors with a fastball that averaged 96.1 mph in the 2009-10 seasons. These days, the right-hander is making sure to stick with his plan of mixing up his wide array of offerings, even during games in which he feels strong in terms of pitch speed.
That has been the case of late for Jimenez, who has averaged 94-plus mph in three of his last five starts, according to brooksbaseball.net, which compiles PITCHf/x data. That is the best stretch for the righty since the end of the 2011 season. In three September starts, Jimenez averaged 93.7 mph with his sinker, marking his highest average for a month this season.
In his third start of this season, Jimenez's fastball was clocked at 88-89 mph.
"What's been a little bit tougher," Jimenez said, "with how good I feel right now with my velocity, sometimes I have to remind myself that I have four more pitches. I've been able to use those the whole year, so I need to not only throw fastballs. There's been a couple games that I felt so good and I'd throw 10 straight fastballs. That's not me. I have to keep mixing."
Jimenez is 12-9 with a 3.49 ERA over 29 starts, but he has found another gear in the second half. Over his past 20 starts, the right-hander has fashioned a 2.52 ERA. Jimenez's ERA is 1.83 over his past 10 turns and 1.57 across his past five appearances. For the season, Jimenez has posted a career-best rate of 9.1 strikeouts per nine innings.
Indians pitching coach Mickey Callaway said Jimenez's reduced focus on velocity has played a role in the pitcher's success.
"I don't think I really understood that until I got to talk to Ubaldo," said Callaway, who is in his first year as the Tribe's pitching coach. "He was really concerned about that, but trying to throw harder led to more mechanical problems. It just kind of made his mind kind of speed up on him. That's not the best way to go about it. Asking him to throw harder wasn't working."
Jordan Bastian is a reporter for MLB.com. Read his blog, Major League Bastian, and follow him on Twitter @MLBastian. This story was not subject to the approval of Major League Baseball or its clubs.