Regular playing time helps Jor. Danks blossom
Regular playing time helps Jor. Danks blossom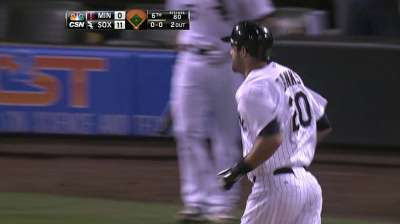 CHICAGO -- The poor White Sox season has allowed a younger player such as Jordan Danks to get more everyday playing time, and the results have been impressive.
Danks homered and doubled, with two RBIs and two runs scored, in Monday's 12-1 victory over the Twins. He entered Tuesday night's action 6-for-16 with six walks on the homestand, and he has a .333 average over his last 28 games.
While the younger, non-pitching Danks has made tweaks to his offensive approach throughout the year, his regular at-bats have produced a more consistent swing.
"When I was a bench player, not getting as many [at-bats], you kind of felt like you were doing something different every time you were coming up there," Danks said. "Now, after playing consistently, you find your swing and you kind of get in a groove. You don't make as many tweaks. Once you kind of find what's comfortable, just stick with it."
"His swing has been in a little bit of an evolution of hitting more power but being more consistent," said White Sox manager Robin Ventura. "The ball comes off his bat better now than it did when he first came up last year. That's part of being up here year round."
This extended strong showing, coupled with his top-of-the-line outfield defense, has solidified Danks' role as a fourth outfielder moving forward. But understandably, the 27-year-old believes he can handle more.
"Obviously, for now, just to be here is good enough for me," Danks said. "Being an everyday starter is the ultimate goal. Hopefully, with consistent at-bats and taking advantage of opportunities, I have proven I can play at this level."
Scott Merkin is a reporter for MLB.com. Read his blog, Merk's Works, and follow him on Twitter @scottmerkin. This story was not subject to the approval of Major League Baseball or its clubs.