Presley sits out; Mastroianni starts in center
Presley sits out; Mastroianni starts in center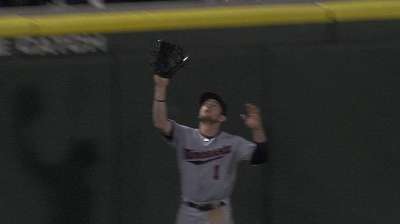 CHICAGO -- Alex Presley was held out of the starting lineup on Tuesday night, marking the first time he didn't start in center field since being acquired from the Pirates in the trade that sent Justin Morneau to Pittsburgh.
Presley was officially acquired on Aug. 31, and started all 15 of Minnesota's games dating back to Sept. 1. He fared well in his first 15 games with the Twins, hitting .302/.343/.397 with one homer, three doubles and seven RBIs.
"I'm pretty impressed with him," Twins manager Ron Gardenhire said. "He's done a real nice job for us. He's swinging the bat and hanging in there against tough pitchers he hasn't faced before. He's had some big hits for us. I think he's just doing just fine and making a statement he knows how to play up here, and that's a good thing."
Darin Mastroianni started in center field in Presley's place, and batted leadoff for the Twins. It was Mastroianni's first start in center since April 15.
Presley entered the Twins 4-3 loss in the seventh inning as a pinch-runner and played the final innings in center field. In his only at-bat, he lined out to shortstop Alexei Ramirez to end the game.
Rhett Bollinger is a reporter for MLB.com. Read his blog, Bollinger Beat, and follow him on Twitter @RhettBollinger. This story was not subject to the approval of Major League Baseball or its clubs.