Tigers bullpen depleted on Tuesday vs. Mariners
Tigers bullpen depleted on Tuesday vs. Mariners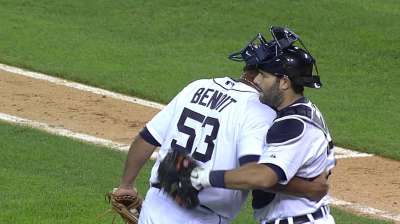 DETROIT -- The Tigers were without three key members of the bullpen on Tuesday due to injuries and the need to give some guys rest.
Left-hander Drew Smyly had pitched in three of the team's last four games, throwing 60 pitches over 3 1/3 innings, and will be unavailable until Thursday.
Closer Joaquin Benoit had also thrown in three of the past four games, though with a much lower pitch count, but also wasn't expected to pitch on Tuesday.
"[Benoit] didn't really throw many pitches last night or the day before, eight [on Sunday] and 12 [on Monday], but I really think you have to be really careful with him," manager Jim Leyland said. "You get greedy, you might lose. I try to watch him."
Bruce Rondon is battling tenderness in his elbow after throwing multiple pitches above 102-mph to strike out Red Sox slugger David Ortiz on Sept. 2. Rondon said his elbow is feeling better and he's expected throw a bullpen session on Wednesday.
Phil Coke started the eighth and recorded one out in Tuesday's 6-2 victory over the Mariners, Jose Alvarez followed with 1 1/3 innings and Jose Veras recorded the final out in the ninth in a non-save situation.
The Tigers also had Jeremy Bonderman available after recovering from tendinitis and inflammation in his right thumb. He hasn't thrown in a game since Sept. 4.
Bobby Nightengale is an associate reporter for MLB.com. This story was not subject to the approval of Major League Baseball or its clubs.