V-Mart getting rare start at catcher on Thursday
V-Mart getting rare start at catcher on Thursday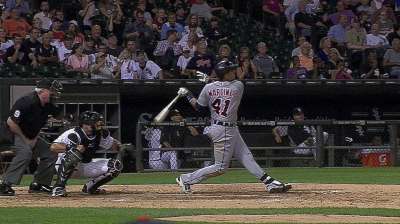 DETROIT -- In the past, manager Jim Leyland said the only scenario in which Victor Martinez would start at catcher in an American League park this season would be to allow Miguel Cabrera to serve as the team's designated hitter.
That will be the case on Thursday, as Martinez will make his third start behind the plate this season after catching two games against the Mets in August. Due to National League rules, the Tigers didn't have the luxury of a designated hitter.
Leyland didn't give a specific reason for Martinez's next start behind the plate, but it will limit Cabrera's activity in the day game after playing the night before, and Alex Avila will get a rest after starting in each game since Sept. 10.
Another factor could be Mariners' starter James Paxton, who will be making his third Major League start. In Triple-A this season, the left-hander has held lefties to a .221 batting average with no home runs and 36 strikeouts in 161 at-bats, compared to giving up a .294 average to righties.
Ramon Santiago will likely fill Cabrera's spot at third base, while Matt Tuiasosopo will earn the start in left field. Tuiasosopo played his first game in more than a week on Monday, going 0-for-2 before being lifted for a pinch-hitter when the Mariners changed pitchers.
The Tigers will face two left-handers over their next six games: Paxton on Thursday and White Sox ace Chris Sale on Saturday.
Bobby Nightengale is an associate reporter for MLB.com. This story was not subject to the approval of Major League Baseball or its clubs.