Hammel to start crucial series against Rays
Hammel to start crucial series against Rays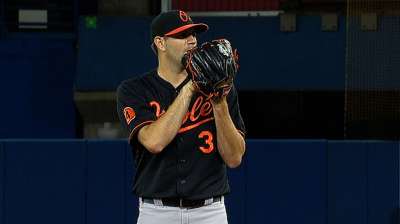 BOSTON -- Jason Hammel will start Friday's important game against the Rays, but with Bud Norris battling right elbow soreness and Miguel Gonzalez due to miss one start with a right groin strain, manager Buck Showalter predicted there could be an unfamiliar name starting for the O's on Saturday.
"We used to call it Jonny Wholestaff," Showalter said. "We'll see. I'm hoping Bud feels good enough to [start]."
Norris threw a side session at Fenway Park on Tuesday and came out of it feeling good, but if he's not ready to start on Saturday, Showalter is prepared to go with a multiple-pitcher approach. He said he's identified five or six guys that could go, if needed.
"We'll see how [Norris] is, make a decision on Thursday to see where we're going with him, whether we need a starter for Saturday or not," Showalter said. "Who that will be, we'll talk about when we make that decision."
Jason Mastrodonato is a reporter for MLB.com. Follow him on Twitter @jmastrodonato. This story was not subject to the approval of Major League Baseball or its clubs.