Lyles tagged in abbreviated outing as Astros fall big
Lyles tagged in abbreviated outing as Astros fall big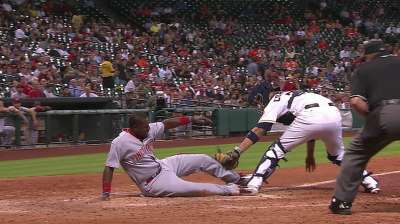 HOUSTON -- Astros manager Bo Porter is not a big numbers guy. He didn't let the score bother him in a 10-0 loss to Cincinnati Tuesday night at Minute Maid Park.
"It's one those games you basically chalk up and put behind you," Porter said.
Porter also didn't let it concern him that it marked Houston's 100th loss of the season.
The Astros have now lost 100 games in three consecutive years. Born as the Colt .45s in 1962, Houston lost 96 games as an expansion team. The most games Houston lost in a season was 97 until dropping 106 in 2011. The Astros beat that total by losing 107 last year.
"I don't concern myself what people are going to say [about the number of losses]," Porter said. "I concern myself with the men in that clubhouse and how we can continue to get better every day. From a teaching point, that's not how we're going to go about our business every day."
One of those teaching moments occurred in the bottom of the first inning Tuesday night. The Astros already trailed, 4-0, when Houston shortstop Jonathan Villar led off the inning with a single to center.
Villar never stopped running and was thrown out easily at second base. Just a rookie trying to be aggressive?
"I don't think it was OK," Porter said. "Jonathan came up to me right after it happened and we talked about it. I know he's running full speed when that decision is made. I explained to him that decision should have been made before he even stepped into the batter's box. That's the maturation I'm sure Jonathan is going to get to. He said, 'Skip, I messed up.'
"Know the score. Know your pitcher has thrown 20-some pitches [in the first inning] and gave up four runs. You may end up putting up a big inning yourself. You could have made it safely [to second] and we'd still be having this conversation. The decision should be made on when to be aggressive even before you put the ball in play."
Villar, who turned 22 in May, said that is how he has always played the game -- aggressively.
"It's just part of my game," Villar said. "I played like that every game. [Porter] told me it's a different situation. It's 4-0. Get on base. [But] I've played every time like that."
Villar admitted it will be tough for him to change.
"I'm thinking, 'Make it a double,'" Villar said. "[Porter] said, 'You played great, but you've got to think.'"
The Reds jumped on Houston starter Jordan Lyles (7-8) for nine runs in the first four innings. They nickel-and-dimed him for four runs in the first, piecing together four singles, a walk and an error.
"You look at that first inning and the error was huge," Porter said. "If the play is made, that's two outs and nobody on and you don't know how the inning goes. They kind of dominoed the rest of the inning and put up a four-spot."
Charge the error to Lyles. Brandon Phillips, batting second with one out, hit a grounder to the third-base side of the mound. Lyles fielded it and threw wildly to first, allowing Phillips to run all the way to second.
"I should have taken a little extra time," Lyles said. "I just made a bad throw.
"It was one of those snowball effects. Balls were hit hard. Balls found holes. Good offensive teams put up good numbers like that. Overall, it wasn't our night."
Cincinnati cleanup hitter Jay Bruce, from nearby Beaumont, Texas, put the game away with a grand slam in the fourth to make it 9-0.
"I actually thought he made some good pitches," Porter said of Lyles. "Even the grand slam, it's not a pitch that's up in the zone. The guy just put a good swing on it. It was a fastball down and away, trying to get contact on the ground and a double play."
The slam knocked out Lyles after 3 1/3 innings, surrendering nine runs (eight earned) and walking three without a strikeout. Four of the Reds runs were scored by batters who walked or reached on an error, which is help Cincinnati certainly didn't need.
The Astros never solved right-hander Mike Leake (14-6). He coasted through eight innings, giving up just five hits. Only two Houston runners reached third base.
"It's always nice to get a lead," Leake said. "Sometimes when you get a big lead, it's tougher to pitch, because you have to somehow get that attitude going. It was nice to have support."
Leake struck out six and reliever Sean Marshall, who pitched the ninth, struck out two more.
"He pretty much pounded the strike zone," Porter said of Leake. "Once he got late in the game, he started leaving the zone and we started chasing."
Houston's Chris Carter struck out swinging in the second inning, his 200th strikeout. Carter became only the fourth player in Major League history to strike out 200 times in a year, joining Mark Reynolds, Adam Dunn and Drew Stubbs.
Gene Duffey is a contributor to MLB.com. This story was not subject to the approval of Major League Baseball or its clubs.