Ibanez plans to return for 2014
Ibanez plans to return for 2014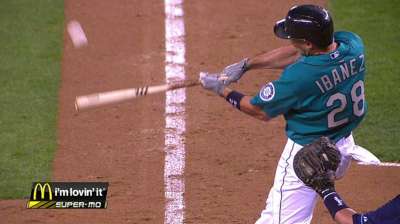 DETROIT -- Raul Ibanez has hit a team-leading 28 home runs for the Mariners this year at age 41, and said Tuesday he wants the chance to keep playing again next season.
Ibanez's production has dropped off in the second half this year after hitting 24 homers before the All-Star break. But the veteran outfielder is still batting .252 with 63 RBIs in 116 games this season and remains one of the team's best clutch hitters.
"Yeah, I want to play another year," Ibanez said prior to Tuesday's game against the Tigers. "It's not something I really dwell upon. It's not something I mull over and lose sleep over, because I'm in the moment right now. But yeah, if you asked me right now, I definitely want to play another year."
Ibanez is on a one-year, $2.75 million contract with Seattle and will be a free agent at year's end.
Ibanez, one of the hardest workers on the team, said health hasn't been an issue for him.
"Physically, I feel I can play for -- I don't want to sound wrong -- but kind of 'til I want to physically," Ibanez said. "Mentally, it's a grind and that part becomes harder as you get older. Staying locked in for six months in a row becomes harder. But I feel I can play this game physically for awhile, I guess. That doesn't mean I will, but I feel like I can."
Whenever he does call it quits, he doesn't want or expect a retirement tour like former Yankees teammate Mariano Rivera has received this year.
"I don't think I'd get the reception Mariano has," Ibanez said with a laugh. "He deserves it. No, I'd just kind of want to leave the way I came in, kind of quietly."
Ibanez, who homered in the fourth inning of Tuesday's 6-2 loss to the Tigers, now has 299 career home runs and is one shy of Ted Williams' record of 29 for a player age 41 or older in a single season.
"Of course, it would be a cool thing," he said. "But it's not something you can think about. You just have to go out and put at-bats together. If you think about home runs, it just doesn't work that way. It doesn't happen. I'm going to try to fill up the ballpark with singles and see what happens."
Greg Johns is a reporter for MLB.com. Follow him on Twitter @GregJohnsMLB as well as his Mariners Musings blog. This story was not subject to the approval of Major League Baseball or its clubs.