Myers focused on playoffs, not Rookie of Year
Myers focused on playoffs, not Rookie of Year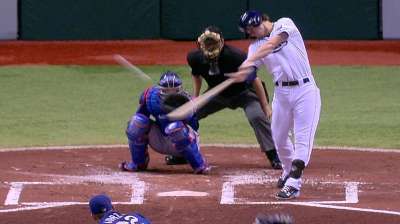 ST. PETERSBURG -- The Rays have won two of the last five American League Rookie of the Year Awards, and many in the organization believe a third is on its way.
Outfielder Wil Myers leads AL rookies in home runs (13) and RBIs (49). If he remains in possession of those titles, he will become the first player to lead AL rookies in those categories while playing in fewer than 90 games.
Myers' singular focus remains on winning games rather than personal accolades.
"The biggest thing on my mind is making the playoffs," he said. "I want to help us get there. [Winning the AL Rookie of the Year Award] is in the back of my mind, but the most important thing is winning for the team."
Third baseman Evan Longoria, who won the award in 2008, feels his teammate is deserving of the honor, considering he leads the team in runs scored, hits, doubles and RBIs since his June 18 promotion.
"The measure of that award, much like all of the major awards, is how much he's helped his team win and what sort of impact he has had," Longoria said. "It's immeasurable at this point. He has provided us with a ton of offense and gave us a much-needed lift when he came up."
Myers said if he does not win the award, it should go to teammate Chris Archer, who is 9-7 with a 3.03 ERA in 20 starts this season.
Archer returned the compliment.
"I don't know if there is a way to have co-Rookies of the Year, but that would be awesome," Archer said. "If I don't get it, I want Wil to get it, because he's a friend of mine. He's more than a teammate. I've seen the work he has put in and his development. He's very deserving. I'm not all about accolades and getting recognition. It would be cool to get it, but if Wil gets it, I'm going to be completely stoked for him."
Bill Chastain is a reporter for MLB.com. Sam Strong is an associate reporter for MLB.com. This story was not subject to the approval of Major League Baseball or its clubs.