Bruce leads rout as Reds inch closer in NL Central
Bruce leads rout as Reds inch closer in NL Central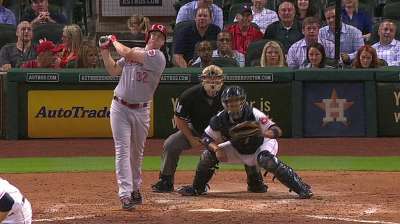 HOUSTON -- The nice round number of 100 seemed prevalent on Tuesday night at Minute Maid Park. While the Astros were trying to avoid it for another day, Reds right fielder Jay Bruce powered right to it.
Part of a 10-0 Reds thumping of Houston, Bruce notched five RBIs, including four on a fourth-inning grand slam that gave him 30 home runs and, for the first time in his career, 100 RBIs.
"One hundred RBIs and 30 home runs all in one swoop," Reds manager Dusty Baker said. "It's great for him to do it in front of his parents and all his homeboys. He's from right down the road."
Meanwhile, the youth-laden Astros reached 100 losses for their third-straight year and own a Major League-worst 51-100 record. This series has presented an opportune time on the Reds' schedule to narrow the gap some more in the National League Central race. A Pirates loss put Cincinnati 1 1/2 games out of second place. The Cardinals won their game to keep first place to themselves and lead by 2 1/2 games over Cincinnati.
The magic number for the Reds to clinch the second NL Wild Card spot went to seven as the Nationals swept both games of a doubleheader.
"We're ready to go. It's just a matter of us playing sound baseball and playing the way that we're capable of," Reds starting pitcher Mike Leake said.
Leake pitched eight innings in the shutout and allowed five hits with two walks and six strikeouts.
Before Leake even took the mound, he was provided a 4-0 lead as eight men batted in the first inning against Jordan Lyles. With runners already on the corners and one out, Bruce blooped a ball near the left-field foul line that dropped between Marc Krauss and shortstop Jonathan Villar. It snapped a personal 0-for-8 mark lifetime vs. Lyles.
Bruce's hit was followed by a Xavier Paul walk and Todd Frazier's lined RBI single to left field. Zack Cozart punched a two-run single to right field for a four-run lead. Cozart, who had four RBIs on Monday, gave himself eight RBIs over his last three games with an RBI single to right-center field in the third inning.
"It's always nice to get a lead," Leake said. "Sometimes when you get a big lead, it's tougher to pitch, because you have to somehow get that attitude going. It was nice to have support."
Lyles' two-out walk of Joey Votto in the fourth inning loaded the bases for Bruce. On a first-pitch offering, Bruce lifted a drive to the left-field seats for the second grand slam of his career and first since Sept. 10, 2008, in his rookie season. A large contingent of fans from Bruce's hometown of nearby Beaumont, Texas roared with approval.
In Bruce and Brandon Phillips, Cincinnati has a pair of teammates with at least 100 RBIs for the first time since Johnny Bench and George Foster in 1977. He also became the sixth player in club history to produce three-straight 30 homer seasons, the last being Adam Dunn from 2004-08.
From 52 RBIs in his rookie year, Bruce has posted RBI totals of 58, 70, 97 and 99. His home run totals have also trended upward each season, but he remains four shy of the 34 he hit in 2012.
"That's what he is supposed to do as you become a veteran and play with guys your own age. You hope to get better," Baker said. "Instead of them tricking you like it is early in your career, you're supposed to be tricking them or at least not getting tricked. Thirty home runs is almost automatic if he stays healthy because that's his swing.
"It's great to see him get 100 RBIs, especially since he started off slow in the RBI department. We had [Shin-Soo] Choo on all the time and Joey on all the time. He had quite a few chances. Now he's cashing in on those chances. Hopefully this continues on into the playoffs."
The offensive support allowed Leake to mostly cruise. He was also fortunate in the first inning. Villar started the Astros' first inning with a single to center field. He was thrown out stretching for a double and plowed face-first into Phillips' rear end as the second baseman applied the tag between his legs. Following Jose Altuve reaching on an error and a Krauss single, Leake got Matt Dominguez to hit into an inning-ending 6-4-3 double play.
Leake, who extended his career high with 14 wins, went on to retire 13 of his next 15 batters, including a brisk six-pitch second inning. He got a second nicely turned double play from Cozart and Phillips on Altuve in the sixth.
By the end of the eighth, Leake had 105 pitches and the decision was made to end his night. Freshly off of the disabled list, lefty Sean Marshall handled the ninth with his first appearance since May 20 and struck out two.
"He possibly could have gone the distance, but we thought about it," Baker said. "It's not often you get to throw a complete-game shutout, but we had to look at the big picture. If his pitch count got too high, it's probably going to affect him his next start against the Mets."
Mark Sheldon is a reporter for MLB.com. Read his blog, Mark My Word, and follow him on Twitter @m_sheldon. This story was not subject to the approval of Major League Baseball or its clubs.