Mariners move hot Almonte into leadoff role
Mariners move hot Almonte into leadoff role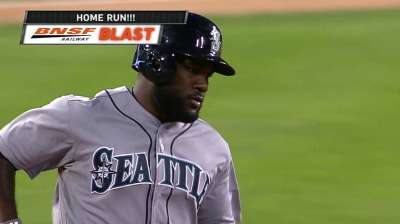 DETROIT -- Abraham Almonte has made the most of his opportunity since being called up to the Mariners at the end of August, having reached base safely in all 13 games in which he's had an at-bat. So on Tuesday, Eric Wedge gave him a new opportunity by inserting him into the leadoff role for the first time against the Tigers.
"We've tried to keep him up top when we could, either in that one or two spot, just because he's kind of been an action guy for us," Wedge said. "He's brought a lot of energy and showed us a short game. He's driven the ball, too. It's good to get him up there and let him get some ABs."
Almonte led off quite a bit for Triple-A Tacoma this season, and the 5-foot-9 speedster said he's filled that role much of his life.
"It's good. Most of my career I've hit leadoff, so it's kind of normal for me," Almonte said. "I'll just play the same way I've been playing."
The 24-year-old outfielder hit a home run in Monday's 4-2 loss to the Tigers and now has a hit in 12 of his 13 games and reached base on a walk in his only hitless outing.
The 13-game on-base streak to open his career ties Dustin Ackley for the second-longest in Mariners history, though well behind the franchise record of 47 games by Alvin Davis in 1984.
Almonte joins Ichiro Suzuki (2001) and Carlos Guillen (1998-99) as the only players in club history to begin their career with at least one hit in 12 of their first 13 games with an at-bat.
Almonte was acquired from the Yankees for reliever Shawn Kelley last spring and split most of this season at Double-A Jackson and Triple-A Tacoma. But he has provided a nice infusion of speed and energy into the Mariners' late-season efforts.
"From my first day here, I've felt really comfortable," Almonte said. "There are a lot of players here I know and I feel like family. That's helped a lot. I'm just trying to do my best every day to show what I've got, running, defense, whatever. Every tool that I can show, I'm just trying to put it in the game."
Greg Johns is a reporter for MLB.com. Follow him on Twitter @GregJohnsMLB as well as his Mariners Musings blog. This story was not subject to the approval of Major League Baseball or its clubs.