O'Day could return to bullpen on Wednesday
O'Day could return to bullpen on Wednesday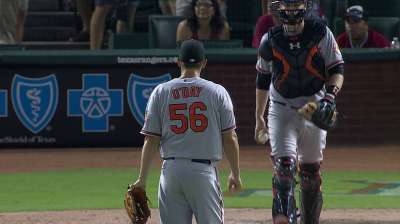 BOSTON -- Sidearming righty Darren O'Day could return to the Orioles as soon as Wednesday.
Manager Buck Showalter said he spoke to his late-inning reliever on Tuesday, and O'Day reported feeling good after throwing all of his pitches off a mound in Sarasota, Fla.
"We'll see how he feels in the morning when he comes in," Showalter said. "He still has a little bit of soreness from the actual injections, so he seems to be making progress."
O'Day has pitched just twice this month, the last time Sept. 7, due to tingling and numbness in the fingers of his pitching hand.
"Compressed nerve is the way I understand it," Showalter explained. "The inflammation was doing it. Once we get the inflammation out of there, the nerve is no longer compressed. I could be wrong, but that's the way I understood it."
O'Day has posted his second consecutive impressive season, posting an identical 2.28 ERA while striking out nearly a batter per inning. The O's have been forced to mix and match in the late innings without the 30-year-old available.
Jason Mastrodonato is a reporter for MLB.com. Follow him on Twitter @jmastrodonato. This story was not subject to the approval of Major League Baseball or its clubs.