Pelfrey unable to deliver boost to Twins
Pelfrey unable to deliver boost to Twins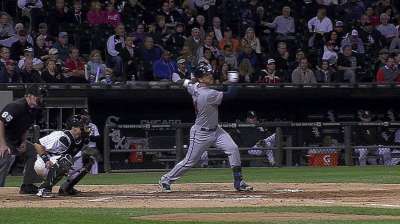 CHICAGO -- After showing signs of improvement with a combined 3.45 ERA in 11 starts in July and August, Mike Pelfrey hoped to keep it rolling in the final month of the season.
But Pelfrey has gone the other way, reverting to his early form when he struggled in his return from last year's Tommy John surgery on May 1.
Pelfrey had another forgettable start on Tuesday night, as he lasted just 4 1/3 innings, and the Twins couldn't complete a late rally in a 4-3 loss to the last-place White Sox at U.S. Cellular Field.
Pelfrey turned in another clunker, his third straight rough outing in September. The right-hander gave up three runs on nine hits and a walk, needing 96 pitches to record 13 outs. He has a 10.13 ERA this month, which is even higher than his 7.66 ERA in the first month of the season.
"I thought April was bad but if you look at the numbers, statistically this is probably worse," Pelfrey said. "This is definitely not how I envisioned ending the year. I was told I'd have at least one more start on Monday. So hopefully, I can try to finish on a positive note."
The White Sox got out to an early lead against Pelfrey, scoring in the second inning on an RBI single from Marcus Semien to plate Gordon Beckham, who reached on a one-out single. It was part of a 38-pitch second inning for Pelfrey, who again struggled with his pace, as the game ended up going three hours and 33 minutes.
"I think we saw the first couple innings were a long process," Gardenhire said. "The pace wasn't very good. He used his slider instead of his curveball. The game just had no pace to it again. And that's the problem. I think he's disappointed in that, too."
Chicago added two more runs in the fifth, when Alexei Ramirez doubled home Alejandro De Aza from first on a shot down the left-field line before scoring on a bloop single from Dayan Viciedo.
Pelfrey was able to strike out Adam Dunn for his sixth strikeout for the first out of the inning, but he surrendered a one-out single to Paul Konerko that knocked him from the game. Left-hander Brian Duensing came on and was able to get out of the jam unscathed.
It was enough offense for White Sox left-hander Jose Quintana, who was solid, allowing just one run on eight hits and two walks over six innings. It was his first win since Aug. 16 against the Twins at Target Feld.
"He just continues to battle, and he just kind of finds a way to get through innings," White Sox manager Robin Ventura said. "He just seems to make the tough pitch when he needs to and fortunately tonight he got a decision. That's probably something that's wearing on him a little bit, but he hasn't showed too much of it. But he was tough tonight."
The Twins scored their lone run against Quintana on an RBI double from Trevor Plouffe in the third inning to bring home Brian Dozier from second. They wasted a scoring opportunity in the sixth, when they loaded the bases with two outs, as Pedro Florimon flied out to center to end the inning.
The White Sox tacked on an insurance run in the sixth on a two-out RBI single from Viciedo off reliever Josh Roenicke. The run loomed large for the White Sox, as the Twins came back with two runs in the top of the seventh.
Darin Mastroianni led off the seventh with a walk before advancing to second on a wild pitch. Brian Dozier then hit a ball into the hole at shortstop with Mastroianni making a nice slide into third to beat the tag by Ramirez, whose only play was at third base.
Trevor Plouffe scored Mastroianni with a single that deflected off reliever Jake Petricka to put two runners on with nobody out. Oswaldo Arcia grounded into a potential double play but beat it out with second baseman Gordon Beckham throwing wildly past Konerko at first for a run-scoring error.
The White Sox promptly made another miscue on a grounder from Ryan Doumit that got past Konerko to put runners on first and third with one out. It was originally ruled an error but changed to a hit after the game. But Josh Willingham struck out and Josmil Pinto grounded out to end the scoring threat.
The Twins hit the ball hard in the ninth against closer Addison Reed but had nothing to show for it, including a drive to deep center from Plouffe that was snagged at the wall on a nice play by De Aza.
"We had some chances to tie the game up or take the lead," Gardenhire said. "They made some big pitches when they had to. So it was a tough one for us because the guys were into it pretty good."
Rhett Bollinger is a reporter for MLB.com. Read his blog, Bollinger Beat, and follow him on Twitter @RhettBollinger. This story was not subject to the approval of Major League Baseball or its clubs.