White Sox trip up Twins for second straight win
White Sox trip up Twins for second straight win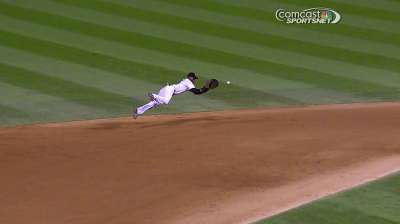 CHICAGO -- Jose Quintana turned in another solid performance for the White Sox on Tuesday night, and he didn't have to settle for yet another no-decision.
The left-hander -- who leads the Majors with 17 no-decisions, an American League record -- tossed six strong innings and Dayan Viciedo went 3-for-5 with two RBIs in a 4-3 victory over the Twins at U.S. Cellular Field.
Quintana allowed one run on eight hits, walking two and striking out five, in his third consecutive quality start. He has yielded three runs or fewer in 14 of his last 15 starts, and registered his first win in his past six outings dating back to Aug. 16, despite posting a 2.81 ERA (11 earned runs in 35 2/3 innings) over that span.
"I feel great," Quintana said about getting the win. "I feel wonderful because my team won tonight. Every time I have the opportunity for a win, I'm happy for that."
"He just seems to make the tough pitch when he needs to and fortunately tonight he got a decision," said White Sox manager Robin Ventura. "That's probably something that's wearing on him a little bit, but he hasn't showed too much of it. But he was tough tonight."
The White Sox got on the board first on an RBI single by Marcus Semien in the second inning off Twins starter Mike Pelfrey.
Then in the fifth, Alejandro De Aza opened the inning with a bunt single and came around to score on a double by Alexei Ramirez. The double was Ramirez's 39th, making him the fifth White Sox player since 2000 to have that many in a single season.
Viciedo brought in Ramirez with a bloop single to left-center to make it 3-1.
In the sixth, Viciedo, who tied a career-high with three hits, lined another RBI single to left to score De Aza for a 4-1 lead. Viciedo has recorded seven multi-hit games so far in September.
"I think the second inning was the big inning," Pelfrey said. "I tried to throw a complete game in the second inning. I threw 40 pitches or whatever [38]. The at-bat to Ramirez was 12 pitches, but it felt like 30 pitches. I felt like whenever I made a mistake, they were able to find a hole."
The Twins scored their first run in the third on an RBI double by Trevor Plouffe.
In the seventh, Plouffe hit a sharp ground ball off reliever Jake Petricka's glove for an RBI single to make it 4-2. With runners at first and second, Oswaldo Arcia hit a grounder to short, which Ramirez went to second with for the force out. Gordon Beckham's relay to first was wild and went past Paul Konerko, enabling another run to score to make it 4-3.
Addison Reed pitched a scoreless ninth to pick up his career-high 38th save, tying Roberto Hernandez for the fifth-highest single-season save total in franchise history.
Quintana said that despite Minnesota's late inning rally after he departed, he was confident in the White Sox bullpen, especially when the game got to the ninth.
"I think we were in good hands with the bullpen," he said. "It's a pretty good bullpen. When the closer came in, I felt good."
Ventura said that when the Twins cut the deficit to one, he was hoping that his bullpen could help Quintana get that elusive win, given the number of no-decisions he's had.
"When he leaves and all of a sudden they start somewhat of a rally, you don't want to go down that road," Ventura said. "But we've seen it enough this year that a lot of his starts seem to go for naught. But tonight they at least came back and the bullpen did a nice job."
The White Sox won their fifth straight against the Twins and their fifth home series in their last eight. They also improved to 13-12 over their last 25 home games after going 5-14 in their previous 19 contests at U.S. Cellular Field.
Manny Randhawa is an associate reporter for MLB.com. This story was not subject to the approval of Major League Baseball or its clubs.