Garcia solid, but Braves blanked in nightcap
Garcia solid, but Braves blanked in nightcap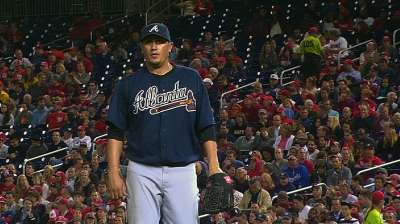 WASHINGTON -- Barring a collapse that would be even more significant than the one they experienced two years ago, the Braves will eventually win the National League East. But as these past two weeks have elapsed, they certainly have not looked like a team that would be dangerous once the postseason arrives.
A wave of emotions gripped the Braves as they were swept in Tuesday's doubleheader at Nationals Park. They entered the ninth inning of the first game with a two-run lead and the confidence that Craig Kimbrel would secure the victory that would have created the possibility to celebrate a division title by the time the long day concluded.
But Kimbrel's first blown save in more than four months simply added to the recent frustration that was extended when Atlanta's slumbering offense was baffled yet again by Tanner Roark, who led the surging Nationals to a 4-0 win in the nightcap.
"We need to start playing a little better baseball and start swinging the bats," Braves manager Fredi Gonzalez said. "I like where we're at, but there are still baseball games to be played. We just have to get back on a roll again."
Despite losing three straight and nine of their past 13 games, the Braves still own an eight-game division lead over the Nationals and their magic number to clinch the National League East is four with 11 games remaining. But this two-week skid has jeopardized their hope to maintain the NL's best record and gain home-field advantage leading up to the World Series.
With a win against the Rockies on Tuesday night, the Cardinals moved within one game of the Braves in the battle for the NL's top record. Atlanta does own the head-to-head tiebreaker against each of the clubs -- Cardinals, Dodgers, Pirates and Reds -- still in contention to win this battle.
"We really haven't gotten where we want to go yet," Braves catcher Gerald Laird said. "We don't want to put ourselves in a hole. We are lucky we have built ourselves a large enough lead that we can have a little bit of a skid."
The mood of the evening would have been much different had Tuesday's first game not concluded with Kimbrel surrendering a career-high three runs in a ninth inning that ended with the ever-dependable Andrelton Simmons allowing two runs to score when Denard Span's routine grounder rolled between his legs.
Instead, this day belonged to the Nationals, who lost 12 of the previous 16 games played against the Braves, including each of the previous six on their home turf. With 27 wins in their past 37 games, the Nationals have moved within 4 1/2 games of a Wild Card berth and established themselves as a club other teams would like to avoid in October.
"They're playing good baseball," Gonzalez said. "Up and down the lineup, they're swinging the bats and getting good pitching. We just need to get going ourselves."
A disheartening day became even more concerning when their right-handed setup man, Jordan Walden, allowed the Nationals to score three runs in the eighth inning of the nightcap. Walden has surrendered runs in two of the three appearances he has made since completing just one bullpen session and returning after missing three weeks with a sore groin.
"Maybe it's just a case of him not having pitched in a while," Gonzalez said. "He's healthy."
Even without Walden's shaky eighth inning, the Braves were never able to erase the second-inning deficit that was created when Steve Lombardozzi's one-out single accounted for the only run Freddy Garcia surrendered over seven impressive innings.
Garcia's effort was trumped by Roark, who allowed just two hits while completing a career-high seven innings in just his third Major League start. Including two relief appearances, the rookie right-hander allowed four hits and totaled 13 scoreless innings against the Braves this season.
"You don't want to take any credit away from them," Laird said. "The guy pitched a good game tonight. They came out and swept a doubleheader. But we've got to come out ready to play tomorrow."
While winning just four of their past 13 games, the Braves have batted .199 and averaged 2.8 runs per game. Consecutive one-out singles by Laird and Dan Uggla in the second inning accounted for the only hits surrendered by Roark.
On the way to claiming this twin-bill sweep, the Nationals saw their starting pitchers surrender just one run in 13 innings. Three of the five runs the Braves scored on the day were tallied in the final two innings of the first game. One came courtesy of two errors and the other two came via Evan Gattis' two-run homer off Tyler Clippard, who has allowed a run in each of his six appearances against Atlanta this year.
Laird, who has participated in the past two World Series, believes some of his younger teammates need to relax as they move closer toward clinching the division.
"You've got a lot of guys who haven't experienced that yet," Laird said. "You can see it on their face. They're trying to make things happen. It's one of those things where you've got to let it happen. Go out and play the game hard and let the game come to you."
Mark Bowman is a reporter for MLB.com. This story was not subject to the approval of Major League Baseball or its clubs.