Nicasio can't get out of third inning in loss to Cards
Nicasio can't get out of third inning in loss to Cards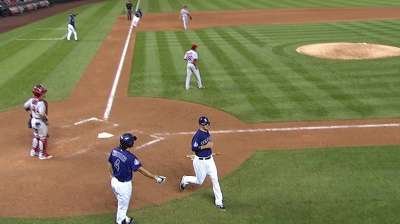 DENVER -- Red Cardinals garb was spotted throughout the Coors Field stands on Tuesday night, and before long the Rockies were left red-faced.
Rockies starter Juan Nicasio experienced his second shortest start of the season, as the Cards tagged him for eight runs in 2 2/3 innings of their 11-4 victory.
The Cardinals (88-63) made it to 10 runs on Matt Holliday's two-run homer in the fifth off reliever Rob Scahill. By then, the home-away-from-home fans could safely celebrate their team nudging out of a tie with the Pirates -- who lost to the Padres for the second straight night -- back into first place in the National League Central.
By the seventh inning, the Rockies (69-83) seemed to concede defeat by removing shortstop Troy Tulowitzki and first baseman Todd Helton.
Charlie Culberson averted a shutout in the seventh with an RBI single -- two runs scored and Culberson ended up at third after Shane Robinson's error in right field -- off Carlos Martinez with one out. Two-out RBI singles by DJ LeMahieu and Michael Cuddyer chased Martinez. But Seth Maness ended the inning by getting Ryan Wheeler to ground out.
Cuddyer went 2-for-3 with a walk and finished the evening with a .331 batting average, tops in the National League. Atlanta's Chris Johnson is second at .327.
"I'm rooting hard for him," Rockies manager Walt Weiss said. "Late in the game we take some of those guys out, but Cuddy had to stay in. We wouldn't have enough guys to finish if we took them all out. His turn ended up coming back around, and it was nice to see him get another hit.
"That's Cuddy. He never checks out."
However, Nicasio's start was too much for the Rockies to overcome.
Nicasio's shortest outing of the year was 2 1/3 innings against the Red Sox on June 25. That was his last start before a brief demotion to Triple-A Colorado Springs. He had been competitive more often than not after his return -- 4-3, 3.68 ERA in 12 starts -- before struggling on Tuesday.
Nicasio (8-8) missed large chunks of the last two years with injuries, but has made 29 starts this year. Although Nicasio denied it, Weiss said fatigue could be a factor.
"We're definitely looking for more consistency," Weiss said. "He's been a lot better since he got back to us from his trip down to the Springs. I wonder how much of it is time missed from last year. He's grinding to the finish line here. He's been better at staying away from those big innings, but he struggled with that tonight."
Nicasio gave up two-out, run-scoring singles to Yadier Molina in the first inning and Matt Carpenter in the second. Two outs was all he could manage in the third. Holliday doubled to open the inning. Molina had an RBI double, Matt Adams an RBI single and Daniel Descalso a two-run triple before Carpenter added another RBI single to prompt Weiss to remove Nicasio for Scahill.
"I didn't have control of my fastball, so I had trouble," Nicasio said. "When I can't throw my fastball for a strike down in the zone, it's hard for me."
Holliday, a former Rockies star who increased his homer total to 20, also made a difficult catches on a drive to the warning track in left by Helton to end the first inning with runners on the corners.
Cardinals starter Joe Kelly (9-4) held the Rockies to three hits and two walks in five innings before leaving with tightness in his right calf.
"His stuff looked pretty good, but it was definitely there, so it was an opportunity to get him out as soon as we could," Cardinals manager Mike Matheny said.
The Rockies also lost catcher Wilin Rosario after two innings because of a right calf injury. He was removed from Monday night's 7-2 Rockies victory with soreness in the calf. Weiss said he believes Rosario's calf is strained and he might miss a few games.
Thomas Harding is a reporter for MLB.com. Read his blog, Hardball in the Rockies, and follow him on Twitter @harding_at_mlb. This story was not subject to the approval of Major League Baseball or its clubs.