Depth on display during Ellsbury's absence
Depth on display during Ellsbury's absence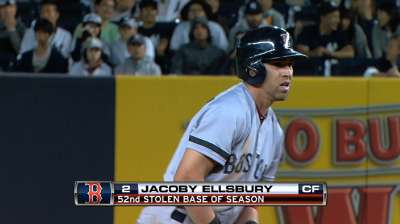 BOSTON -- To have their best chance at winning a World Series championship, the Red Sox would have Jacoby Ellsbury leading off and playing center field.
However, in the latest example of the depth of this year's team, Boston has managed to go 7-2 and score 7.8 runs per game since Ellsbury went down with a compression fracture in his right foot.
"Much like when we've missed [Shane Victorino] for a number of games or when we miss [Clay Buchholz] for a number of games, the depth continues to play out," said manager John Farrell.
Ellsbury, who hasn't spoken to the media since his injury, continues to make progress behind the scenes, but there's still no timetable on when he will resume baseball activities. At this point, it's all symptom-based.
"He continues his exercises coming out of the boot, and, again, it's consistent with what he's been doing since we returned off the road," said Farrell. "That includes pool work. That includes ground-based stuff in the weight room here. He remains in that same rehab program. Baseball activities are yet to be initiated. That hasn't changed our feel and our thought that he'll be back on the field before the regular season ends."
The regular season ends on Sept. 29.
Ian Browne is a reporter for MLB.com. Read his blog, Brownie Points, and follow him on Twitter @IanMBrowne. This story was not subject to the approval of Major League Baseball or its clubs.