Matheny OK with celebrating postseason berth
Matheny OK with celebrating postseason berth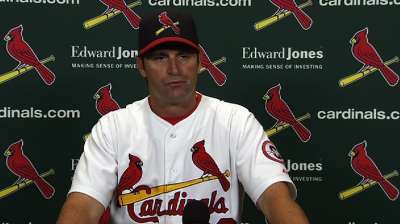 DENVER -- Cardinals manager Mike Matheny knows how difficult it is to make the playoffs. He was a part of October baseball in just three of his 13 seasons as a Major League catcher.
And it's because playoff appearances are so precious that Matheny isn't particularly judicious about his players celebrating when they lock up a postseason birth. The playoffs are drawing near for Cardinals, who trimmed their magic number for securing at least a Wild Card berth to five games with an 11-4 win over the Rockies on Tuesday night.
"It's a big deal, because there's a lot of very good players, that had very successful careers, that never got to play one day after the [regular] season," Matheny said.
To avoid getting ahead of themselves, Matheny said the Cardinals have only sketched out a loose plan of how the club will enjoy the moment if it secures a playoff berth. It's a situation complicated by the addition of a second Wild Card spot in 2012, as some would argue that there's little to celebrate before the divisional round.
But Matheny sees any game after No. 162 as an achievement worthy of recognition.
"I just think it's too special," he said. "And I don't think enough credit's given to what's done over 162 games, so with the new process, it obviously gives more of a benefit to the team that wins the division. But this is a long haul, this is a long grind and when you've done something to set yourself apart, you need to acknowledge that."
Ian McCue is an associate reporter for MLB.com. This story was not subject to the approval of Major League Baseball or its clubs.