As usual, Molina having excellent defensive year
As usual, Molina having excellent defensive year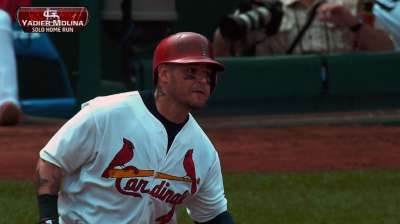 DENVER -- Yadier Molina's name has become synonymous with Gold Gloves.
The Cardinals catcher has won the most coveted defensive award each of the last five seasons and is strongly positioned to make it six straight. Molina has caught 46.5 percent of would-be basestealers, the best mark in the Majors by a comfortable margin, among qualifying players.
"Just the combination of exchange, arm strength, accuracy, and he's way off the charts as far as the consistency in that," Cardinals manager Mike Matheny said of what makes Molina special. "You have other things you have to take into consideration too -- pitching staff does a nice job of helping him maintain the times and the jumps and help with the running game. But Yadi's consistently going to have a good, quick time and he's going to put it on the bag."
Matheny noted something else that makes Molina unique: He doesn't call for certain pitches to put him in better position to throw out a baserunner. Matheny said he's seen opposing catchers call for fastballs when they think a runner will try to steal, but Molina isn't afraid to call an offspeed pitch if that's the smart pitch in a given situation.
"He doesn't fall into that trap of trying to make guys quick or having them throw pitches that he can handle up in the zone," Matheny said. "He almost refuses to do that and goes the opposite way and that's not always the case for most good throwers."
Ian McCue is an associate reporter for MLB.com. This story was not subject to the approval of Major League Baseball or its clubs.