Tigers lower magic number to 6 to clinch AL Central
Tigers lower magic number to 6 to clinch AL Central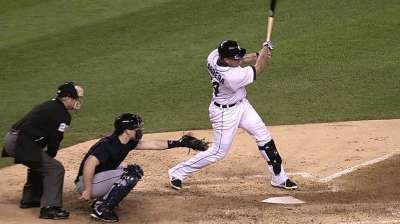 DETROIT -- One line from Jim Leyland on Tuesday afternoon might well have summed up a Tuesday evening in the life of a manager in a playoff race.
"My stomach hasn't been too good lately, to be honest with you," Leyland said. "I don't know what's wrong with it. It's not too good when the highlight of your day is getting up at seven in the morning to get to the grocery store to get prune juice."
It couldn't have felt any better Tuesday night.
Hours later, Leyland was more than five minutes into his postgame media session, having answered questions about just about every situation that came up in Tuesday's 6-2 Tigers win over the Mariners, when he finally let out a brief sigh of relief. His office was nearly empty by then. His nerves were still going.
Their magic number to clinch the American League Central, now down to six, wasn't at the front of Leyland's mind, even though the television in his office showed second-place Cleveland pulling ahead on Kansas City to stay six games back. He had his own problems.
"That was a tough game to manage," Leyland said, leaning back a bit in his office chair. "I mean, that's what baseball at this time of year is all about. The kid [Jose] Alvarez, you just can't say enough about what he did."
It was a mid-September matchup against a Seattle team that has looked overmatched offensively on its way to an AL-low .239 average on the year. The look on his face didn't show it. The records didn't make it any easier on him as he watched Alvarez battle fellow rookie Mike Zunino with the bases loaded and one out in the eighth inning of a 3-2 game.
Alvarez earned raves in June as a spot starter. He rejoined the team in August as a long reliever, then returned as a September callup for bullpen depth. On Tuesday, he was the spot reliever on the line, a Minor League free agent last winter facing one of Seattle's top prospects and the third overall pick from last year's Draft.
Leyland replaced lefty Phil Coke with another lefty, something he rarely ever does, to set up a matchup against a righty, knowing it could backfire. It was his second consecutive inning that led to an all-or-nothing matchup with lead-changing runners in scoring position. He had just watched Al Alburquerque retire the top two hitters in Seattle's order with the potential go-ahead run at third in the seventh inning.
That was different, a matchup that favored a strikeout specialist like Alburquerque, if only he could execute, and he did. This eighth-inning showdown was a lefty against a righty, and it lasted 11 pitches.
"I don't like those usually, because when a hitter sees that many pitches, he usually hits it hard somewhere," Leyland said. "I wasn't very comfortable, but I knew it was going to be [Endy] Chavez [pinch-hitting] against a right-hander, and you couldn't double up Chavez. I just took a chance with his repertoire of pitches that maybe he could get him out front and get a ground ball."
Leyland dreaded it. Alvarez welcomed it.
"It was a big opportunity," Alvarez said. "I wanted it and they gave me the opportunity."
However, his counterpart wanted it, too. Never mind that the Mariners' fate this season was decided long before Zunino came back from the disabled list two weeks ago. This was a chance to prove himself as well.
"It was one where you try to get in defense mode and just battle," Zunino said, having fallen into a 1-2 count. "I was able to see all his pitches, but in that situation, a ground ball is the last thing I wanted to do. All I could do was hustle it out."
The shortstop behind Alvarez was welcoming a chance, too. It was Jose Iglesias' error on what looked like a double play that put the second of three consecutive runners on with one out against Coke, whose two walks allowed Seattle to load the bases without a hit.
"As soon as you drop the ball, it's over," Iglesias said. "You have to be ready to catch another one."
Zunino fouled off five two-strike pitches -- changeups, sliders and a fastball -- to extend the at-bat, each time leaving Alvarez and catcher Alex Avila to come up with something else. Eventually, he changed the game plan.
"I was trying to call pitches to where we can get the strikeout, but I was looking more for the ground ball," Avila said. "I took a couple of shots at maybe striking him out with the fastball or the cut slider going in, maybe trying to get him to swing over top of it. But he had a pretty good at-bat, just getting a piece of it, which I think kind of helped set up that two-seamer away to get the ground ball. We just showed him a little bit in to get him thinking about it and then backed away."
One more pitch, one different bit of contact off the bat set everything in motion. Omar Infante scooped the ball and flipped it towards second as Iglesias darted over, taking the throw high with a clear view of Prince Fielder at first because Michael Saunders had stopped to avoid a tag. Zunino lunged for the bag, hitting with the front of his foot, but the throw barely beat him.
"Big double play for us, giving us the momentum to come back and get some more runs," Iglesias said.
It wasn't just the final margin of victory that overshadowed what Alvarez did. Miguel Cabrera's first home run since Aug. 26, ending a streak of 47 at-bats between homers, and Avila's first triple in 13 months had a part in that as well. Anibal Sanchez got a no-decision, but struck out 10 over 6 1/3 innings. But the reaction from Leyland and the clubhouse showed Alvarez wasn't overlooked.
A two-out walk in the ninth denied Alvarez a chance at his first save, but for a Minor League signing who had never been in Triple-A before this year, the first four outs were big enough.
"Oh man, it's a good feeling for me," Alvarez said. "I'm just doing anything to win it."
Jason Beck is a reporter for MLB.com. Read Beck's Blog and follow him on Twitter @beckjason. This story was not subject to the approval of Major League Baseball or its clubs.