Maurer's outing gives Mariners something to build on
Maurer's outing gives Mariners something to build on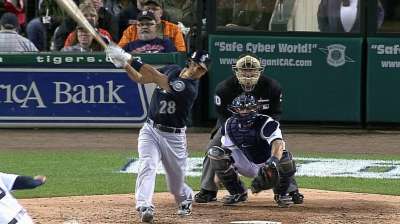 DETROIT -- Rookie right-hander Brandon Maurer had his best start of the season and Raul Ibanez crushed his 28th home run, but it wasn't enough for the Mariners as they dropped a 6-2 decision to the Tigers on Tuesday at Comerica Park.
Maurer held the high-powered Tigers to two runs on five hits over five-plus innings, but was replaced after giving up a go-ahead home run to Miguel Cabrera in the sixth.
The 23-year-old wound up with a no-decision when the Mariners came back to tie the game in the seventh. Maurer remains 4-8 with a 6.95 ERA, but showed much more of the promise the club expected when he initially made the starting rotation out of Spring Training.
"That guy is filthy," Tigers veteran right fielder Torii Hunter said after going 0-for-3 against the youngster. "I've never faced him before. Just watching him, just looking at his pitches, they were zooming out of the zone, zooming in the zone, 93 to 94, two-seamer, cutter, slider, curveball. He threw everything but the kitchen sink. That guy is pretty good, he's definitely the pitcher of the future over there."
Maurer struck out six and kept the Mariners in contention against the American League Central-leading Tigers before turning things over to a bullpen that gave up four runs in the final three frames.
It's been a rough stretch for a team that started five rookies on Tuesday, including Maurer. The Mariners are 1-4 on the current 10-game road trip and 4-12 in September, having lost eight of their last nine to fall to 66-85.
But manager Eric Wedge can't help but note the promise of a pitching rotation that has included three rookies -- Maurer, Taijuan Walker and James Paxton -- in recent weeks.
"When it's all said and done, we're going to have a heck of a pitching staff here," Wedge said. "People have to remember we're a completely different team now than we were in Spring Training. We're not that team anymore. We haven't been that team in a long time.
"Now, with really turning it over and having all these young kids in the bullpen and rotation and from a position player standpoint, it's tough to go out and compete the way you want. But that's what they're doing. They are competing and they're learning each and every day."
After Maurer's departure, Detroit regained the lead in the bottom of the seventh with a run off rookie right-hander Yoervis Medina on a sacrifice fly by Hunter, then squelched Seattle's bases-loaded threat in the eighth when catcher Mike Zunino grounded into an inning-ending double play after an 11-pitch battle with reliever Jose Alvarez.
"It was one where you try to get in defense mode and just battle," said Zunino. "I was able to see all his pitches, but in that situation, a ground ball is the last thing I wanted to do. All I could do was hustle it out."
The Tigers gave themselves some extra cushion with three runs in the bottom of the eighth off relievers Charlie Furbush and Carter Capps, highlighted by a two-run single from Austin Jackson.
Ibanez's solo shot in the top of the sixth off Anibal Sanchez tied the game at 1-1 and moved him into a tie with Barry Bonds for the second-most homers ever by a player age 41 or older, Bonds having hit 28 as a 42-year-old in 2007. He's one back of the 41-and-over record of 29 by Ted Williams in 1960.
"I couldn't try to do too much," Ibanez said. "[Sanchez] was really tough tonight. Playing against him in the National League, he's a great pitcher. At that point, he'd struck me out twice and I was just trying to put the ball in play and I got it in the air to right field."
Kendrys Morales tied the game at 2-2 in the top of the seventh on a pinch-hit RBI double, but reliever Al Alburquerque came on to strand runners at second and third to stem that rally.
Maurer was making his second start since being inserted back into the rotation. He survived just three innings against the Astros in his last start, giving up five runs on seven hits in a short night at Safeco Field.
But against the Tigers, Maurer didn't give up a run until a solo homer by Don Kelly with two out in the fourth and then again with Cabrera's 44th home run of the year in the sixth.
"It was a four-seamer up and away," said Maurer. "A little too close I guess to the plate. Best hitter in baseball right there. Definitely a tough out. That was impressive right there. It was up and wasn't on the plate. It was out a little bit. Good piece of hitting."
But the 6-foot-5 rookie, who was pitching Double-A ball just a year ago, held his own on this day and took a big step forward in the process.
"I thought Maurer was a lot better today," said Wedge. "Arguably the best overall start he's had this year. When you look at some of the difficulties he's had prior to this, and some of the lessons he's learned and the team he's playing at this time of year, I was really impressed."
Greg Johns is a reporter for MLB.com. Follow him on Twitter @GregJohnsMLB as well as his Mariners Musings blog. This story was not subject to the approval of Major League Baseball or its clubs.