Wheeler wild in second start vs. former franchise
Wheeler wild in second start vs. former franchise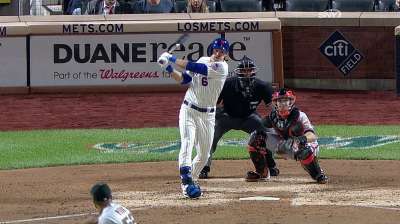 NEW YORK -- An innings limit looms over Zack Wheeler. Exactly how much further the Mets allow him to go remains to be seen. Regardless, his final outings offer chances for the young right-hander to show how much he's learned and how much he's progressed since making his mid-June debut.
Tuesday night's performance might not have been a regression, though it demonstrated that Wheeler's learning curve is ongoing.
Wheeler struggled with his command and the Giants capitalized, building an early lead and scoring the decisive runs off the Mets' bullpen to beat New York, 8-5.
"Certainly, it was unexpected what we saw tonight. He's pitched so much better than how he did tonight," Mets manager Terry Collins said. "That was one thing that we've been raving about is that he's been commanding his pitches. Tonight, he couldn't find the zone, fell behind and ended up getting hurt by it."
Wheeler lacked location on his pitches from the start, walking five batters -- including San Francisco starter Yusmeiro Petit -- over the first 1 1/3 innings he pitched. By the end of the second, the Giants had a 3-0 lead and Wheeler looked to be headed for a short outing.
Wheeler only walked one more batter in the game, though, keeping the Mets within reach. But those first two, long innings had already taken their toll on his pitch count.
"You know you're out there and your pitch count's high, you're not doing very well the first couple innings," Wheeler said. "You don't want your bullpen to get overworked first game of the series. You just try to do the best that you can, and just start throwing more strikes."
New York scored in the third on an RBI groundout by Eric Young Jr. and continued to climb back against Petit in the fourth.
Wilmer Flores hit an RBI double to left and Matt den Dekker drove in a run with a single. After taking too big of a turn at first, den Dekker was caught in a rundown and tagged out. But that allowed Flores to score to give the Mets a 4-3 lead.
That lead didn't last long. Wheeler couldn't shut down the Giants and surrendered the tying run in the fifth.
The right-hander departed after allowing four runs on three hits and a career-high six walks over five innings. He needed 107 pitches -- the most he's thrown since Aug. 20 -- to get through five frames. For the second time in his last three starts, Wheeler wasn't able to reach the sixth inning.
While warming up in the bullpen before the game, Wheeler said his command was practically perfect. Mets catcher Travis d'Arnaud said he thought it was going to be a "fun one" for his pitcher. Wheeler even joked with pitching coach Dan Warthen that he was worried. He was throwing almost too well.
"I was literally hitting every spot and that kind of stuff," said Wheeler, a former Giants prospect. "That never happens. I went out to the game, and it just wasn't there tonight."
While Wheeler settled down to give the Mets a chance at a win, their bullpen couldn't do the same.
San Francisco re-took the lead in the seventh when former Met Angel Pagan hit a solo home run off Mets reliever Sean Henn. The Giants added two more runs against Gonzalez Germen -- including an RBI triple from Pagan -- in the eighth to take a 7-4 lead.
After San Francisco added one more run in the top of the ninth, the Mets began building a rally in the bottom of the inning off Sergio Romo. Daniel Murphy hit an RBI single with the bases loaded, but Romo retired Lucas Duda and pinch-hitter Andrew Brown to end the inning and give San Francisco the win.
"That's what makes him pretty special. He kept his poise," Giants manager Bruce Bochy said of Romo.
Before the game, Collins discussed Wheeler's improved command. It was a sign the 23-year-old was learning how to throw strikes consistently, and understanding he didn't have to be too perfect with his pitches. As the season winds down, it was a significant step.
Wheeler has shown marked improvement on the mound. After his start on Tuesday, Wheeler gave a brief assessment of his season to this point. It's gone well for the most part, he said, but there have been a couple "hiccups."
Tuesday's outing was one of them.
"I just didn't execute any pitches today," Wheeler said. "Nothing was flowing."
In Wheeler's first start against the Giants, he delivered seven dominant innings in a July victory.
Chris Iseman is an associate reporter for MLB.com. This story was not subject to the approval of Major League Baseball or its clubs.