Pagan haunts former club as Giants pull away vs. Mets
Pagan haunts former club as Giants pull away vs. Mets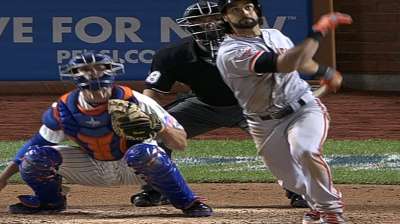 NEW YORK -- Angel Pagan cared little about his personal glory Tuesday night. But he sounded thrilled to perpetuate the legacy of a legend.
Pagan went 3-for-3 and reached base safely in all five of his plate appearances in the Giants' 8-5 victory over the Mets. Though San Francisco's leadoff hitter fell a double short of hitting for the cycle, missing out on achieving that rarity wasn't prominent in his mind. Even without the cycle, Pagan took pride in emulating an enduring figure of his nation and his sport.
"It's pretty awesome to have a day like this on the same day that honors the best player from my country," Pagan said.
That, of course, would be the incomparable Roberto Clemente, who was remembered throughout the Major Leagues on Tuesday, repeating an annual observance.
Pagan displayed Clemente's verve each time he stepped into the batter's box. He drew a first-inning walk off Mets starter Zack Wheeler, providing the first indication that the rookie right-hander lacked his best command. Sure enough, the former Giants prospect issued a career-high six walks in five innings. Four of those runners scored.
"Certainly, it was unexpected what we saw tonight, because this guy's pitched so much better than how he did tonight," Mets manager Terry Collins said. "That was the one thing that we've been raving about is that he's been commanding his pitches. Tonight, he couldn't find the zone and fell behind, and ended up getting hurt by it."
Pagan added a second-inning RBI single, walked and scored in the fifth, homered to break a 4-4 tie in the seventh and tripled in the eighth to score Tony Abreu, who had lined a run-scoring double.
The Giants have captured seven of their last nine games, including four in a row. That's their longest winning streak of the season since they took six consecutive games from April 29-May 5.
Healthy after recovering from left hamstring surgery that caused him to miss 82 games, Pagan has contributed heavily to San Francisco's ascent. He's batting .373 (22-for-59) with 11 runs scored in 16 games, providing further evidence that the Giants wouldn't be struggling to stay out of last place in the National League West had he remained healthy.
"I think we've seen the difference he makes in our club," Giants manager Bruce Bochy said. "... You have to deal with injuries, but [Pagan's return] showed how important his presence is. He changes our club. There's no question about it. I think we'd be in a better situation if we had Angel [for the entire season]."
The Giants have repeated for weeks that they intend to finish strong. Pagan is making sure they take themselves seriously.
"We can get ready for next year and use this year as motivation to prepare," Pagan said.
Hunter Pence, another primary source of the Giants' September surge, singled home the Giants' final run in the ninth inning. That lengthened his streak of consecutive games with an RBI to seven, the team's longest since Buster Posey also had a seven-gamer last year.
That run widened the Giants' lead to 8-4 and appeared superfluous at the time. But Bochy had to remove reliever Sandy Rosario, who injured his right hip while walking Ruben Tejada to open the ninth. The Mets proceeded to load the bases off Sergio Romo and brought the potential winning run to the plate with one out, but Romo coaxed Lucas Duda's foul popup and pinch-hitter Andrew Brown's fly ball to end the threat.
"That's what makes him pretty special. He kept his poise," Bochy said of Romo.
That handed the decision to Yusmeiro Petit (4-0), who allowed four runs and seven hits in six innings. Like Wheeler, Petit endured a lapse in control by issuing a pair of walks to open the fourth inning. That helped New York score three runs to grab a short-lived 4-3 edge.
"That surprised me," Petit said. "I don't know what happened."
But Petit was effective enough to defeat the team he began his professional career with in 2002. He wasn't vengeful afterward, but he clearly wanted to show the Mets how far he had come.
"It's big, because that's the team that gave me my opportunity," Petit said.
Chris Haft is a reporter for MLB.com. This story was not subject to the approval of Major League Baseball or its clubs.