Rays release grip, allow Rangers to regroup in loss
Rays release grip, allow Rangers to regroup in loss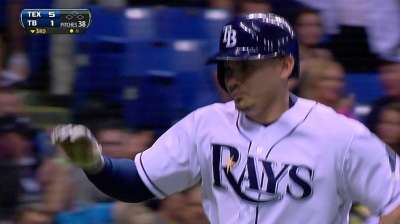 ST. PETERSBURG -- It was clear from the first pitch that Tuesday night's game at Tropicana Field between the current owners of American League Wild Card berths belonged to the Texas Rangers.
Rays starter Jeremy Hellickson hurled a 92-mph fastball to leadoff man Ian Kinsler, who took it for a ride to left field, the first run in a 7-1 runaway win for the Rangers, who pulled into a tie with the Rays for the top spot in the AL Wild Card race. Cleveland is a half-game back.
"First pitch of the game was not a good fastball," Hellickson said. "I tried to go down and away, and I just didn't start out right."
The second inning went according to plan for Hellickson, but it was not long before the top of Texas' order was doing more damage, forcing Hellickson out of the game.
Mitch Moreland walked to lead off the third before Leonys Martin doubled. Kinsler drove them both in with a single, and Elvis Andrus followed with another home run to left field. Hellickson retired two more batters before Rays manager Joe Maddon gave him the hook.
"It's been a back-and-forth battle with him," Maddon said of Hellickson. "Even in games he's won, there have been a lot of runs scored. It's just been awkward with him. He just hasn't been as steady as he's been in the past. Why? I don't really know. ... I don't have any solid answers."
What was originally scheduled to be a "bullpen day" for the Rangers turned into the opposite as the Rays used three pitchers before opposing pitcher Alexi Ogando exited after the fifth.
Hellickson looked much like the pitcher he was in August, a month in which he took four losses on the chin and was given a week off by the Rays to rest. The outing was also reminiscent of the early-season Hellickson, who was plagued by big innings.
Hellickson could not identify one particular problem with his pitches Tuesday. Maddon noted it was uncharacteristic of him to give up home runs to right-handed hitters, like Kinsler and Andrus, as he has struggled primarily with left-handed hitters in the past. He left having thrown just 40 pitches, which matched his career low.
It certainly did not look like the Hellickson who bounced back from the rest to help the Rays to wins in each of his last two starts or the pitcher who went more than a month without a loss when the Rays were rolling through July.
"It's very frustrating," Hellickson said. "It's been an inconsistent year, but I can't dwell on it and think about it. This one is over. It really [stinks], but you have to move on."
The Rays countered with a run in the third thanks to Jose Lobaton's solo shot to right field. Yunel Escobar and Ben Zobrist worked their way into scoring position with just one out, but neither Wil Myers nor James Loney could drive them in, continuing the team's troubling trend of stranding runners and leaving runs on the board.
"That was our opportunity to really do something," Maddon said. "Loby gets the energy back. To have done something there could have put a different hue on the game."
Texas added to its lead in the fifth, when Martin led off the inning with a double off Rays reliever Wesley Wright. Two fly balls to the outfield later, the Rangers held a 5-1 advantage.
"We just kept grinding, and good things began to happen for us," Rangers manager Ron Washington said. "We were able to get some base hits in some right situations and do some good things. ... That's what we were waiting for -- to get one -- and then we'll see what happens tomorrow."
Four Texas relievers combined to shut the door on the Rays as Tampa Bay had just three men reach base after its third-inning run.
Just 24 hours after the Rays put on an offensive showcase, their bats were silenced again.
"It's going to be back and forth," Maddon said. "We have to deal with it. We prepare for it. You believe you're going to come back in a game like tonight. We were looking for that signature win, and it will be forthcoming at some point."
Sam Strong is an associate reporter for MLB.com. This story was not subject to the approval of Major League Baseball or its clubs.