Nats capitalize on late error to stun Braves
Nats capitalize on late error to stun Braves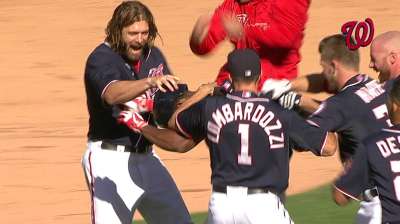 WASHINGTON -- After a trying couple of days, there was reason to smile Tuesday afternoon in Southeast Washington.
As the ball left Denard Span's bat and slipped between the legs of sure-handed Braves shortstop Andrelton Simmons, two runs crossed the plate. The Nationals' dugout emptied onto the field. An emotional afternoon in the nation's capital had an emotional end.
One day after 13 people were killed in a shooting near Nationals Park, the city's baseball team provided a small measure of relief, defeating the Braves, 6-5, in a thrilling walk-off win in the opener of a day-night doubleheader.
It was not simply the fact that the Nationals won, but the manner in which they won. Tyler Clippard served up a go-ahead two-run homer in the eighth inning, and the Braves scored another run in the ninth when Ian Desmond committed an error on a routine ground ball.
Trailing 5-3 in the ninth, the Nationals had to try to win the game against Braves closer Craig Kimbrel, who entered the game with a 1.04 ERA in 61 appearances this season. Kimbrel hadn't allowed two runs since May 7. The Nationals scored three.
"The numbers were probably pretty well stacked against us, to be honest," Desmond said. "But they have been for a while now. So we're just going out and playing. A win is a win. Qualify it, or whatever you want. We'll take it."
Kimbrel uncharacteristically walked two of the first three batters he faced and allowed an infield single to Wilson Ramos to load the bases with no outs. Chad Tracy hit a grounder to first base to score one run. Then, with runners on second and third, Span hit a hard grounder up the middle that Simmons couldn't handle.
"I knew when I hit the ball, the game was tied, for sure," said Span, who also extended his hitting streak to 27 games with a single in the second inning. "And then when it went under his legs, I said, 'That's the game right there.' Turned around, and everybody was jumping me."
With their ninth win in 10 games, the Nationals moved to within 4 1/2 games of the Reds in the National League Wild Card race with 12 games remaining.
"I'm proud of really the way the guys have come together," starter Dan Haren said. "I think we've grown close as a unit. Also, [I'm] proud of us putting on this run for [manager] Davey [Johnson]. This is, I guess, it for him. So we're not going down without a fight. That's for sure."
As Haren drove to Nationals Park on Tuesday morning, he looked across the Anacostia River at the Naval Sea Systems Command headquarters, where a shooting shook the city -- and the nation -- on Monday morning.
Haren thought about the tragedy before the game, when he slipped on the Nationals' blue uniform top for the first time since his previous start on Sept. 11. He thought about it during an extended moment of silence before the game, when he held a blue Navy hat over his heart.
"I think that we were all thinking about it all game, really," Haren said. "I really, really wanted [to win] bad, just to fire up people that are watching. Just to make a few people feel good."
Haren allowed just three hits and one run over six innings on Tuesday, with two walks and four strikeouts. He worked his way out of a first-inning jam and retired 14 of the final 15 batters he faced.
The Nationals gave Haren a three-run cushion through five innings, but two Braves runs trimmed that lead to one entering the eighth. With little room for error, Johnson handed the ball to Clippard, who has been the team's most reliable reliever this season. The right-hander walked Freddie Freeman before Evan Gattis, who was hitless in his prior 18 at-bats, deposited a high fastball into the center-field seats.
More mistakes followed in the top of the ninth. First, Bryce Harper tried to throw out Elliot Johnson from left field on a single. Adam LaRoche wasn't expecting the throw, and Johnson reached second safely, then stole third. He scored when Desmond missed a routine ground ball with two outs.
But in the bottom of the inning, those mistakes were absolved as Washington beat the Braves at Nationals Park for the first time this season.
"It's only fitting the way it turned out, that we got their superman closer," Johnson said. "It was worth it all."
As the sun set over Nationals Park, shadows engulfed the flags in left field, which flew at half-staff. The Nationals turned their attention to the nightcap.
"It's tough to play two games this time of year," Span said, "but like I said, baseball, this is just a game."
Tom Schad is an associate reporter for MLB.com. Follow him on Twitter @Tom_Schad This story was not subject to the approval of Major League Baseball or its clubs.