Late defeat costs Braves chance to clinch
Late defeat costs Braves chance to clinch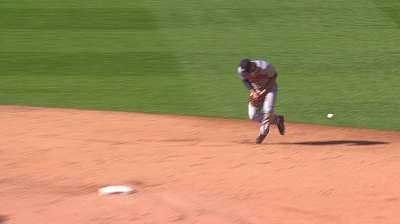 WASHINGTON -- Everything seemed to shape up perfectly for the Braves. Their slumbering offense produced a late-inning rally that provided Craig Kimbrel a two-run lead in the ninth inning, with the chance to secure a victory that would have put him and his teammates on the doorstep of a division title.
But instead of moving another step closer to popping champagne bottles, the Braves were provided the reminder that it is never safe to assume anything in the baseball world.
If it could go wrong, it did for the Braves during a three-run ninth inning that resulted in the Nationals taking a 6-5 win in the first game of Tuesday's doubleheader at Nationals Park. Adding to the bewilderment was the fact that Kimbrel's first blown save in more than four months was sealed courtesy of an error committed by the sure-handed Andrelton Simmons.
"It's a baseball game," Braves manager Fredi Gonzalez said. "You always want the ball hit to Simmons, and you always want to hand the ball in the ninth inning to Kimbrel. This is a cruel game sometimes. The people across the way don't want to be the last out either. We had the right people in the right spots."
Had the Braves preserved their victory, they would have entered Tuesday's nightcap with a chance to clinch their first division title since 2005. But the National League East race will continue at least one more day, thanks to the uncharacteristic mistakes made by Kimbrel and Simmons.
The Braves remain nine games in front of the second-place Nationals, who are fighting for an NL Wild Card spot that seemed highly unlikely just a few weeks ago. Atlanta's magic number to clinch the division remained at four.
"Any time I go out there and don't do my job, it's a tough one to swallow, because my job is to go out there and solidify what everybody else has done the entire game," Kimbrel said. "Everybody worked their butts off all game long. We battled back and took a lead."
Kimbrel issued two walks, allowed an infield single and then saw the Nationals cap their thrilling victory when Denard Span's one-out grounder slipped between Simmons' legs, allowing both pinch-runner Jeff Kobernus and Anthony Rendon to score.
"I just flat-out missed it," Simmons said. "There are no excuses."
While Simmons is in the midst of one of the best statistical seasons recorded by a shortstop, Kimbrel has spent this year further establishing himself as the game's premier closer. The right-hander had allowed just two runs in the 47 1/3 innings he had pitched since last blowing a save on May 7.
But this day would prove to be much different than the norm for Kimbrel. He issued a leadoff walk to Adam LaRoche, and then allowed Wilson Ramos to record a soft infield single that might have resulted in an out had Elliot Johnson not attempted to make a backhanded flip to try to force the speed-challenged LaRoche out at second base. Rendon drew another walk, before pinch-hitter Chad Tracy followed with a groundout that scored LaRoche and put runners at second and third base.
"They didn't hit a ball out of the infield and scored three runs," Kimbrel said. "It's tough. Obviously, that was a big game for us, and we wanted to win it. But I wasn't able to do my job."
The only ball to leave the infield against Kimbrel was the one that slipped past Simmons, who was still bewildered as he talked to reporters approximately 15 minutes later.
"After I knew I didn't catch it, it's a blur," Simmons said.
Such could be said of all that had transpired, going back to when the Nationals tallied three first-inning runs off Mike Minor. After throwing 39 pitches in the opening frame, Minor settled down and retired each of the final 13 batters he faced during his six-inning effort.
"It was just a bad first inning again," Minor said. "I've got to limit those runs early on in the game. For whatever reason, it's happened a few times this year. I've just got to try to fix that."
Freddie Freeman's sixth-inning sacrifice fly accounted for the only run Washington starter Dan Haren surrendered in six innings. The Braves cut the deficit to one run with three hits, including Dan Uggla's two-out pinch-hit RBI single off Drew Storen in the seventh inning.
Evan Gattis gave the Braves their first lead of the day with his two-run home run in the eighth inning against Tyler Clippard. The likelihood that Gattis' 20th home run of the season would serve as a game-winner was enhanced when a pair of errors, including Ian Desmond booting Freeman's routine two-out grounder, gave Atlanta another run in the ninth.
Kimbrel's previous appearance on this mound resulted in him completing a 36-pitch scoreless ninth inning. But his bid to produce another impressive escape act in this game proved to be unsuccessful.
"With Craig, even with the bases loaded and no outs, we still feel like we're going to get out of it," Minor said. "He's going to strike out the side, because that's the kind of pitcher he is. He's a power pitcher. You hardly ever see those kinds of days."
Mark Bowman is a reporter for MLB.com. This story was not subject to the approval of Major League Baseball or its clubs.