Cubs unable to back Jackson's brief outing
Cubs unable to back Jackson's brief outing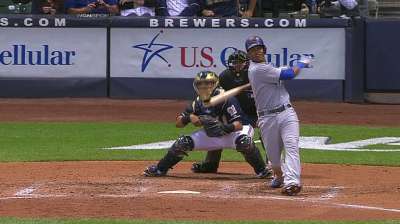 MILWAUKEE -- Edwin Jackson lost Monday's game and his argument with manager Dale Sveum in the dugout.
Jackson gave up two runs in an abbreviated four-inning start and made an error in the Cubs' 6-1 loss to the Brewers at Miller Park. But it was his animated discussion with Sveum after he was pulled that was the focus.
The right-hander was lifted after throwing 76 pitches in his shortest start since lasting three innings on May 23. Jackson gave up two hits and three walks, and he committed one of three errors in the game by the Cubs. Then the fireworks came.
After he was replaced by pinch-hitter Brian Bogusevic in the fifth, Jackson was seen in the Cubs' dugout arguing with Sveum. Bench coach Jamie Quirk, pitching coach Chris Bosio and a few players also were present. Jackson then went into the clubhouse.
"He wasn't real happy being taken out of the game and I understand that," Sveum said. "That's my decision, and I'll leave it at that."
Was it Jackson's performance on the field that prompted Sveum to make the switch? The Cubs trailed 2-0 at that point and Jackson was to bat third in the fifth.
"He was already at 75 pitches, and I felt as many one-run games that we play and in this ballpark, I was going to take a shot at tying it back up and making sure we score that one run," Sveum said. "He was at 75 pitches, and he wasn't happy with coming out of the game at that point and not getting to five innings. You respect that about players who want to stay in the game, and I made that decision."
Jackson said he still felt strong despite the high pitch count at that point.
"I was just ready to go," Jackson said. "As a pitcher, we're always ready to go. We have a lot of competitors on this team. We're ready to battle at all times. Everybody wants to stay in the game, the whole staff wants to stay in the game. He made his decision that he wanted to pinch-hit."
What set off the altercation?
"I don't know," Jackson said. "I don't have a problem with him, I'm sure he doesn't have a problem with me. Something happened, but it's not really a big deal. It might be made more of a big deal than it is, it might be blown out of proportion more than it really is. I don't have a problem with anybody on the staff."
Jackson ended up with the loss, and he is now tied for the most losses in the Major Leagues with the Astros' Lucas Harrell at 16. That's not what the right-hander probably expected when he signed a four-year, $52 million contract with the Cubs in the offseason.
"It's the competitive nature," Jackson said. "We see it all the time in football."
Was he surprised at Sveum's outburst?
"Maybe a little bit," Jackson said. "But right after that, I didn't have a problem, I didn't have a problem with him, I still don't have a problem with him. No grudges or anything like that."
Jackson and Milwaukee starter Wily Peralta began the day tied for the most losses in the National League with 15 each. Both also have turned in their share of quality starts. They are two of six NL pitchers to have at least 13 losses and at least 13 quality starts this year, joining the Phillies' Cole Hamels and Kyle Kendrick, the Padres' Eric Stults and the Giants' Tim Lincecum.
On this night, Caleb Gindl hit an RBI triple, a single, and a two-run home run to help Peralta pick up the win.
Jackson escaped a mess with two outs in the Brewers' second when he walked the bases loaded. But Peralta struck out to end the inning, and then he slammed his bat against the ground. In the third, Norichika Aoki reached second on shortstop Starlin Castro's throwing error as the ball sailed into the photographer's area near the Brewers' dugout. Aoki moved up on a wild pitch during Jean Segura's at-bat, but once again, Jackson got out of the jam.
But the Cubs starter couldn't avoid trouble in the fourth. With one out, Scooter Gennett singled and scored on Gindl's triple. Gindl then tallied on Martin Maldonado's sacrifice, and Maldonado was safe at second on Jackson's throwing error. Peralta lined out to third baseman Luis Valbuena, but he overthrew second and Maldonado moved up on the error. Aoki struck out to end the inning.
Then Jackson was told his day was done.
"I was caught off guard a little bit," he said. "That's the nature of the game. He's the manager. He can make the calls whenever he feels like he needs to."
Jackson said the dust-up wasn't a big deal, and there are no problems in the clubhouse.
"There's not anybody mad at anybody or anybody who holds any grudges against anybody," he said.
The Cubs would need a strong finish to pass the Brewers and not finish last in the NL Central. It's surprising there haven't been more problems.
"We have a group of guys who are going to go out there and fight, good year, bad year, good game, bad game," Jackson said. "It's been a crazy year for us, but like I said, everybody is out working every day and striving to get better."
The Cubs did tally in the fifth. Welington Castillo doubled and reached third on a throwing error by Aoki, and scored two outs later on Castro's single.
The Brewers added on in the sixth on Yuniesky Betancourt's pinch-hit RBI single and an RBI double by Segura. Gindl connected off Zac Rosscup with two outs in the seventh.
It was a sloppy game as the Brewers made two errors to go with the Cubs' trio of miscues. There are two weeks to go, and its an important stretch for Milwaukee manager Ron Roenicke.
"I never want to finish in last place," Roenicke said. "There's a lot of things you could say we're out there playing for."
Jackson and Sveum most likely feel the same way.
Carrie Muskat is a reporter for MLB.com. She writes a blog, Muskat Ramblings, and you can follow her on Twitter @CarrieMuskat. This story was not subject to the approval of Major League Baseball or its clubs.