Gindl's big day backs Peralta as Crew tops Cubs
Gindl's big day backs Peralta as Crew tops Cubs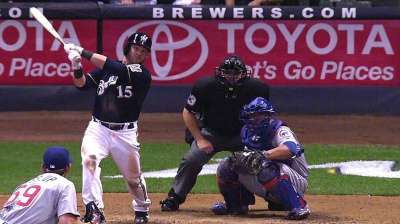 MILWAUKEE -- When you look past the five throwing errors combined between the Brewers and Cubs on Monday night at Miller Park, you come away with simply a 6-1 win for Milwaukee.
The Brewers committed two of those errors, but Wily Peralta turned in his fourth consecutive quality start and Caleb Gindl finished a double shy of the cycle to help Milwaukee win the opener of the four-game series and jump 3 1/2 games ahead of Chicago to avoid the National League Central basement.
Ugly or not, Brewers manager Ron Roenicke was happy to see the ball bounce his team's way.
"It certainly wasn't as good as you would like to see played, and you guys know I like to see clean ballgames," Roenicke said. "It wasn't. But we got a couple of breaks again today. That's nice -- we've been getting some breaks lately."
The Brewers have played the spoiler role lately and are fresh off winning two of three games from the playoff-bound Reds. Roenicke was asked if Monday's sloppiness is reflective of two teams out of the race playing out September.
"I don't think so at all," Roenicke said. "I think both teams were still really getting after it. We just got sloppy. This time of year, it doesn't matter if you're out of the race or not; [the Cubs] are still playing for a lot. They want to show people what they can do, and we're both in the same boat. We've got young guys out there that want to impress somebody."
One of those young players is Gindl, who finished with three of the Brewers' eight hits, along with three RBIs and three runs scored. Gindl put the Brewers up with an RBI triple before scoring on Martin Maldonado's squeeze bunt in the fourth inning, and he smacked his fifth home run of the season in the seventh to give the Brewers a 6-1 lead.
Roenicke said he contemplated pinch-hitting for the left-handed-hitting Gindl against left-handed reliever Zac Rosscup in the seventh, but he decided against it. Roenicke also gave the 3-0 green light to Gindl before his run-scoring triple, showing confidence in his 25-year-old left fielder.
"Nice night," Roenicke said. "The [3-0 pitch he hit for a triple], it's nice to see a guy aggressive and drive it like he did. And then we had a decision to make [in the seventh inning], whether to pinch-hit for him there with a runner on first against a lefty, and he had a great at-bat and ended up smoking the ball to center."
Gindl, who also homered in Sunday's 6-5 win over the Reds, entered the series opener with the Cubs in a 2-for-25 slump, but he said Monday felt a bit more like his hot streak in July when he recorded two hits in five straight starts.
"I'm just trying to find my swing a little bit, and tonight it felt like it came back to me," Gindl said. "The big thing was just being in a hitters' count. I felt like I put myself in a good position to get a good pitch to hit, and I think that was the biggest thing.
"It felt like it was back to the norm tonight."
Peralta, on the other hand, did the opposite of what became the norm in the beginning of the season. Known for blowing up when not having his best stuff, the 24-year-old right-hander battled through a rough first two innings to deliver his fourth consecutive quality start and pick up his 10th win.
Peralta labored early, throwing 40 pitches through two innings -- even with double plays to end each frame. But he finished with six strong innings, allowing an unearned run on five hits, while walking two and striking out seven. He threw 102 pitches, 63 for strikes.
Peralta's two key pitches came early on a slider that struck out Nate Schierholtz in the first inning, which was followed by Maldonado's throw to third to catch Luis Valbuena stealing, and a fastball that coaxed Welington Castillo into a 6-4-3 double play in the second.
"That was a big double play there in that situation with Castillo," Peralta said. "After that I just settled down. I was a little bit out of rhythm early, but I found it and I started pitching better after that."
"[Peralta] scuffled off and on with his command but made some really good pitches when he needed to," Roenicke said. "He still got us there, though. Still didn't give up many runs, and I think that's really important, when he doesn't have his best command that he can still keep us in the game, and he did."
Earlier this season, it might have been different, Roenicke said.
"It really got away from him, and you'd see the big innings," Roenicke said. "Hopefully this is a good sign, that when he gets like this he's still going to keep us there and not allow them to get a lot [of runs].
"You may have seen a bit of [frustration] today, but it may last for a pitch and he gets back into it. We talk about progression and development of a player, you see what happens emotionally and are they able to regroup? I don't have any problem with a guy getting mad, it's how fast can you let go of it? I think Wily is getting better at that."
Cubs starter Edwin Jackson didn't allow a hit before Scooter Gennett blooped a single to left in the fourth and Gindl brought him home with his triple.
Jackson was pinch-hit for in the fifth inning despite allowing just the two hits on 76 pitches. TV cameras caught a confrontation between Jackson and Cubs manager Dale Sveum in the visitors' dugout after Jackson was pulled.
"He wasn't real happy being taken out of the game and I understand that," Sveum said. "That's my decision, and I'll leave it at that. He was at 75 pitches, and he wasn't happy with coming out of the game at that point and not getting to five innings. You respect that about players who want to stay in the game, and I made that decision."
Roenicke put some importance on this series and keeping the Brewers out of the NL Central cellar.
"I never want to finish in last place," Roenicke said. "I think we're still playing to win every game, whether it's, 'Are we playing to spoil somebody else's chances to get into the playoffs [or] are we playing to stay out of last place?' There's a lot of things you could say we're out there playing for. We're really trying to win every game."
Kevin Massoth is an associate reporter for MLB.com. This story was not subject to the approval of Major League Baseball or its clubs.