Eyeing prize, Denver couple runs streak to 42
Eyeing prize, Denver couple runs streak to 42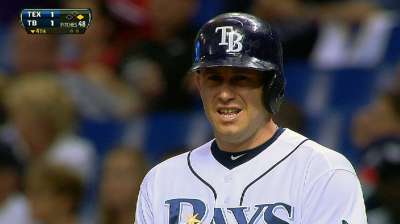 Thijs and Evelyn Storms may be one lovey-dovey married couple from Denver, but they don't see eye to eye on every issue -- not even one that touches the core of an individual's very essence: sports-team affinity.
Evelyn, a teacher, roots for her hometown Rockies, while Thijs turns his attention toward the Chicago White Sox. A house divided by league allegiance, however, isn't broken by any stretch. You see, the Storms complement each other quite nicely.
The Storms have weathered their way to the top of the Beat the Streak standings after making their 42nd straight successful selection on Monday. In other words, they are closing in on the BTS mountain's apex, wherein lies the game's $5.6 million grand prize. In case you were curious, no greater jackpot has been proffered in the history of fantasy sports.
This game is technically in Evelyn's name, but Thijs has found a way to support his wife through all the fun.
"[I am] the one playing the game and putting in the hours of study and work in order to get good picks," Evelyn said.
"Thijs is the consultant in the project. It is actually by playing BTS that we have grown closer together and started to enjoy baseball even more. Now, all we want is another playoff run for the hometown Rockies."
The Storms surged their way into Club 40 on Sunday night before hitting the 42 mark on Monday behind the bats of the Rays' Evan Longoria (.268 batting average on the year) and Starlin Castro (.241) of the Cubs.
"…[On Monday,] we had Castro, [Andrew] McCutchen and Longoria on the short list. Something made me feel that only Longoria and Castro would get a hit," Evelyn said.
"And they came through in flying colors."
Club 40 is a major milestone for BTS participants. Joining it is an accolade, a point about which to brag and boast to your friends. But most importantly, it's a sign that you're more than 70 percent of the way to being set for the rest of your years. And those in the BTS community have been getting better and better at chasing all that fame and fortune.
Entering 2013, Club 40 had admitted 32 members across its first 13 years of existence -- an average of two to three entrants per year. But this season, 13 have been inducted into the group.
Longoria and Castro both possess star power, but they haven't been hit machines in 2013. In fact, the two talents woke up Monday with 147 base knocks apiece, tied for 50th in the Majors.
That's OK, the Storms say, as parity has been a part of their plan by design.
"We predominantly use the double-down option and try to pick a different players as much as we can," Evelyn said. "We like the idea of a streak with many different players, it sounds more romantic and more of a challenge and puts more effort in studying other players, teams and thus learning more about them too."
The Double Down feature allows Streakers to select two players on the same day. If both batters record at least one hit, the Streaker's run advances by two games. But if either player goes hitless, the streak drops back to zero.
As they climb closer toward a lifetime's worth of fame and fortune, the Storms understand that they are now in uncharted waters. This is not their first dip in the BTS pond, though. Not by any stretch.
"Thijs had a streak of 23 last year or the year before and kind of stopped playing BTS after that," Evelyn said.
"And this is where [I] picked it up and took over and got this streak going."
In Beat the Streak, participants try to establish a virtual "hitting streak" by picking one or two big leaguers per day, with their runs continuing as long as their selections collect at least one hit. In 13-plus seasons of BTS play, no one has matched Joe DiMaggio's magic number of 56, set in 1941. To win the $5.6 million prize, one must top Joe D.'s run by one.
To join the fun, visit mlb.com/bts or download Beat the Streak, presented by Dunkin' Donuts, from the Apple app store or through Google Play. Participation is free.
Zachary Finkelstein is a fantasy editor for MLB.com. This story was not subject to the approval of Major League Baseball or its clubs.