D-backs defend turf against title-hungry Dodgers
D-backs defend turf against title-hungry Dodgers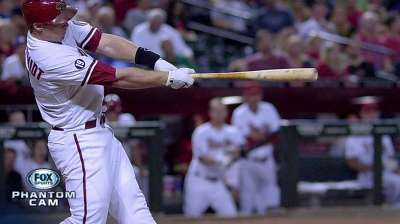 PHOENIX -- The D-backs' chances of catching the Dodgers in the standings may be slim, but they are hoping to make their rivals' road to a National League West title as difficult as possible.
The Dodgers' magic number to clinch the division remained at four after the D-backs' 2-1 victory on Monday night at Chase Field.
"I think about this game what I always think about September -- it's hard to win a game," Dodgers manager Don Mattingly. "Don't care who you are or what's going on. That's a good club and they're going to play and we didn't do enough."
Arizona managed to win despite collecting just two hits. It was the third time in franchise history that the D-backs won with two hits or fewer.
Even with the loss, Los Angeles still leads Arizona by 9 1/2 games. The Dodgers need to win two of the series' final three games to secure the division title. The D-backs would rather not watch them celebrate on their home field.
The D-backs' offense started quickly against left-hander Hyun-Jin Ryu.
A.J. Pollock drew a leadoff walk in the first inning, and one out later Paul Goldschmidt hit his 33rd homer of the season to put the D-backs up, 2-0.
"Actually, if you look at it, one of the plays was Pollock, who got down 0-2 and got a walk," D-backs manager Kirk Gibson said.
Goldschmidt then hit the first pitch he saw from Ryu into the center-field overhang.
"I was looking for something up and out over the plate and fortunately I was able to get it and get it out of there," Goldschmidt said. "He did a really good job the rest of the game."
Indeed he did. Ryu (13-7) would allow just one hit the rest of the way -- a seventh-inning single by Aaron Hill -- and did not walk a batter. He retired 19 in a row after Goldschmidt's homer.
Arizona starter Trevor Cahill was a little bit better, for the first five innings, that is.
Cahill allowed a leadoff single to Nick Punto and then did not allow another hit until the sixth.
Just when it seemed like Cahill was cruising, things suddenly fell apart.
Ryu led off the sixth and Cahill quickly jumped ahead of him 0-and-2 before walking him. Punto then doubled to left-center to put runners at second and third and Cahill walked Mark Ellis on four pitches to lead the bases.
One out later, Cahill walked Yasiel Puig to force in a run and pull the Dodgers within a run, 2-1.
Having stretches where he seems to completely lose his feel for the strike zone has plagued Cahill and been a source of frustration for all concerned this season, because the right-hander seems to have no explanation for what happens.
"Just lost it in the sixth," Cahill said. "I was trying to throw it down the middle and couldn't locate. Everything seemed fine as far as mechanics, it just kind of didn't go where I wanted it to go."
Gibson had seen enough after the Puig walk and pulled Cahill in favor of right-hander Josh Collmenter, who struck out A.J. Ellis and got Skip Schumaker to ground out to end the threat.
"I'm going to have to buy him a dinner here on the road," Cahill said of Collmenter.
This was not the first time that Collmenter had come through in the clutch for the D-backs this year, as he has filled every role imaginable on the pitching staff.
"He's pitched extra innings, long relief. Today he comes in bases loaded, so I mean he's done an unbelievable job," Goldschmidt said. "A tough role to fill. He never knows when he's coming in, but he comes in there and throws strikes and gets outs and he really picked us up tonight."
After Collmenter pitched a scoreless seventh, David Hernandez did likewise in the eighth setting up Brad Ziegler for the save.
Ziegler allowed back-to-back singles to open the ninth before making a nice play on Juan Uribe's sacrifice attempt and nailing the lead runner at third.
One out later, with runners at second and third, the Dodgers sent up Matt Kemp to pinch-hit for Ryu. Kemp, who was activated off the disabled list just prior to the game, had not played in a big league game since July 21.
Ziegler got Kemp to strike out swinging to end the game and earn his 11th save of the year.
Steve Gilbert is a reporter for MLB.com. Follow him on Twitter @SteveGilbertMLB. This story was not subject to the approval of Major League Baseball or its clubs.