Billingsley thriving in recovery from Tommy John surgery
Billingsley thriving in recovery from Tommy John surgery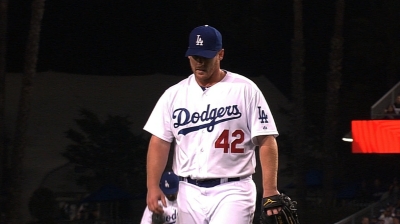 PHOENIX -- Dodgers right-hander Chad Billingsley, not even five months removed from Tommy John elbow reconstruction surgery, is four weeks into a throwing program with stunning results.
"My arm probably hasn't felt this good since high school," said Billingsley. "When you're a teenager you pick up a ball and just start throwing, not worrying about having to loosen up. That's how it feels now for the first time since I was in my teens. I'm really happy with how it feels and the way it's going. They have to hold me back, it feels so good."
Billingsley said that in addition to transplanting a new ligament, doctors shaved a bone spur they believe was adding to his discomfort.
He's now playing catch at 90 feet and expects the distance to gradually increase. Without a setback, he hopes to throw off a mound around the first of the year and be ready for Spring Training.
"I'm sort of going week to week," he said of his rehab at Camelback Ranch-Glendale. "I'm competing each task and doing all the exercises. I'm looking forward to the mound, but I'm not going to rush."
Also visiting the clubhouse Monday was Scott Elbert, also recovering from Tommy John surgery and Shawn Tolleson, who had lower back surgery, then tore a muscle in his backside. He is participating in Instructional League and expects to pitch in the Arizona Fall League.
Ken Gurnick is a reporter for MLB.com. This story was not subject to the approval of Major League Baseball or its clubs.