Lee drives in four, strikes out 14 to win series opener
Lee drives in four, strikes out 14 to win series opener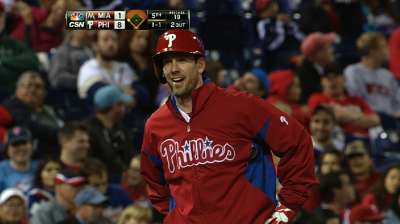 PHILADELPHIA -- It seems pretty clear the Phillies need to upgrade their rotation before Opening Day 2014.
Starters not named Cole Hamels and Cliff Lee have a 7.86 ERA since the All-Star break, which is not going to cut it next season if the Phillies hold any hope to bounce back from what is expected to be their first losing season since 2002.
But having Hamels and Lee atop the rotation is a nice place to start, and Lee continued his All-Star season in Monday's 12-2 victory against the Marlins at Citizens Bank Park. He allowed two runs on eight hits, walked none and struck out 14 in eight innings to improve to 14-6 with a 2.95 ERA.
He even went 3-for-4 with a career-high four RBIs.
"Definitely a fun game," Lee said. "All the way around for everybody. We scored a lot of runs. Great defensive plays."
Lee knocked in two runs with a single in the third inning to make it 7-0. He tripled to score Darin Ruf in the fifth inning to make it 8-1. And he singled to score Roger Bernadina in the seventh to make it 12-2. Lee's four RBIs are the most by a Phillies pitcher since Robert Person had seven on June 2, 2002.
"Heck of a game for Cliff Lee," Phillies interim manager Ryne Sandberg said. "It was basically his show."
It looked like his day even hours before the game. Nearly every teammate walked around the clubhouse beforehand with T-shirts that had a picture of Lee's face and the phrase "… but I'm different," written underneath it.
"I think that's just a joke and they're messing with me," Lee said. "Whatever."
Phillies catcher Carlos Ruiz, one of the most popular and respected players in the clubhouse, came up with the T-shirts.
"Cliff is that guy, he's cool, you know?" Ruiz said. "It's something we try to do in the clubhouse to have fun."
The Phillies improved to 17-13 since Sandberg replaced Charlie Manuel on Aug. 16. It is the third-best record in the National League in that span. Only the Nationals at 20-10 (.667) and Cardinals at 19-7 (.633) have been better.
"No matter what team you're on and no matter what the circumstances are, you have to play hard and you can't take a single play off or a single pitch off or anything," Lee said. "It's about being aggressive and being in the moment and being in tune with what's going on. If everyone is doing that and everyone is prepared the right way, I like our chances. We have talent, it's just a matter of executing and staying aggressive.
"I think we went through spurts of not playing with aggression and being in the moment and all that. No doubt. But what's done is done. We can't do anything about things that happened in the past. All we can do is worry about today, and then turn the page and move on."
Monday was a rare offensive outburst for the Phillies. They entered the night ranked 28th in baseball averaging 3.78 runs per game, 25th in on-base percentage (.306) and 21st in slugging percentage (.389).
If the Phillies are going to make up any ground in the standings next season, they will need not only an improved rotation and bullpen, but considerable improvement from a lineup that is expected to include veterans like Chase Utley and Jimmy Rollins.
Utley, who went 2-for-5 with one home run and four RBIs, has bounced back from knee injuries the past two years to be a productive hitter again. He entered the night with an .812 OPS, which ranked fourth out of 18 qualifying second basemen in baseball. It is his best mark since 2010.
"He had a little bit of a dry spell as far as the home runs," Sandberg said of Utley, who had not homered since Aug. 21. "But he's taking good swings. And he crushed that ball. It's all good signs of what he's doing, being able to play and go about his business. That's obviously a bright spot this year."
Rollins is on pace for the worst season of his career. He entered the night with a .653 OPS, which is 33 points lower than his previous career low (.686) from 2002. Perhaps he can finish strong and carry something positive into the winter. He went 2-for-4 with a walk and a run scored Monday. He is hitting .391 (9-for-23) with two doubles, one home run, two RBIs and four walks in his last six games.
"His walks are up," Sandberg said. "He's getting on base. He's applying his baserunning. Good line-drive swings. He's doing a nice job at the top of the order."
Todd Zolecki is a reporter for MLB.com. This story was not subject to the approval of Major League Baseball or its clubs.