Parker's franchise-best unbeaten mark ends at 19
Parker's franchise-best unbeaten mark ends at 19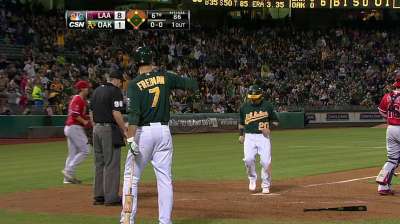 OAKLAND -- The talk of Oakland's clubhouse prior to Monday's series opener against the Angels was how the A's planned on avoiding a letdown following their three-game sweep of division-rival Texas over the weekend.
The A's, riding a five-game winning streak and a record sitting a season-high 27 games over .500, had a magic number for the American League West in sight at eight games with the possibility of mathematically securing the division crown before the end of their final homestand of the regular season on Sunday.
"We have a bigger lead, but I'm not any more comfortable," A's manager Bob Melvin said before the game. "We have to finish this thing out. It's nice to win a series and gain some games, but until this thing's over, we have to play with the same intensity and the same focus we do every day."
But the A's looked flat in a 12-1 loss. Angels starter C.J. Wilson threw seven innings of one-run ball for his 11th career victory against Oakland.
On a positive note for Oakland, the Rangers lost as well, 6-2 to Tampa Bay, to shrink the A's magic number to seven to win the division and maintain their lead at 6 1/2 games. Monday was merely one off game that looks particularly jarring when following a stretch of games in which the A's had won 16 of their last 20 contests.
"There are going to be games like that over the course of a season," Melvin said.
Jarrod Parker did not resemble a starter who entered Monday the owner of a nine-game winning streak and 19-start unbeaten streak, the longest in Oakland history and the longest by an A's pitcher since Lefty Grove had a 21-start streak without a loss in 1931.
The second-year right-hander lasted just 4 1/3 innings -- his shortest outing since June 29 -- and received his first loss since May 22 at Texas. Parker was working on one extra day of rest after he was scratched from his start Sunday with an illness, so perhaps lingering side effects contributed to his allowing two first-inning runs, one more in the third and five in the fifth, when he was replaced by Jerry Blevins.
"Pretty terrible, I think," Parker said, assessing his performance. "Take nothing away from them, they swung the bats well, but there weren't too many pitches that I executed."
Parker struggled to keep the ball low in the strike zone and his normally effective changeup lacked its normal flavor. Parker continually got behind in the count, and eventually the score, and couldn't recover.
Parker said his health, which had him vomiting just a day ago, was not responsible for his performance.
"I'm not going to put it on that or make an excuse," Parker said.
Added Melvin: "He was healthy. We just haven't seen him have an off night in quite some time. He's been awfully good for a long period of time. Just not his best stuff tonight."
Oakland's lone run came in the sixth, when Derek Norris singled in Josh Donaldson with a ground ball into center field. The A's were otherwise stifled by Wilson, who allowed four hits, walked three and struck out six.
Oakland's offense had batted .282 with a Major League-best 55 home runs and 136 extra-base hits in its previous 36 games before Monday.
"He's always good," Coco Crisp said of Wilson. "He mixes his pitches up well. It always helps to get some runs scored early, as well, but even with that, I think he did a good job of mixing up his pitches and he had good control today."
"We're just trying to throw a wrench in the works and keep everybody on the edge of their toes," Wilson said. "It's good television, I guess, when the season comes down to the last weekend."
The Angels have been just as hot as the A's as of late. They're 18-6 in their last 24 games and have won 15 of their last 18 on the road -- an unwelcome change of pace for an A's team that would prefer to play a cooler team as they begin their last homestand of the regular season.
"A loss is a loss," Melvin said. "We just got beat up. We didn't pitch very well, we didn't swing the bats well and they did both, so we just got beat and I don't think you take anything more from it than that. You just try to move on."
Jeff Kirshman is an associate reporter for MLB.com. This story was not subject to the approval of Major League Baseball or its clubs.