D.C. native Hoes reacts to shootings near home
D.C. native Hoes reacts to shootings near home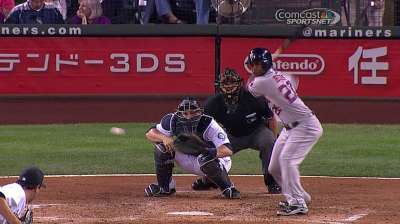 HOUSTON -- Monday's shootings at the Naval Sea Systems Command headquarters in Washington, D.C., that claimed at least 12 lives struck close to home for Astros outfielder L.J. Hoes, who grew up in the area.
Hoes was a two-sport star at St. John's College High School outside Washington and still has plenty of friends and family members living there. His mother, Gale, works in administration for the U.S. Department of Education.
"My mom doesn't work too far from [where the shootings took place]," Hoes said. "It was a sad day in D.C. You never want to see anything like that. You don't want to see innocent people get killed over something that's not important. It's just tough, you know?"
Hoes stayed glued to the television this morning as the news unfolded and spoke to his mom a few times throughout the day, as well as checking in with friends.
"I talked to my friends around there and made sure everyone was OK," Hoes said. "You see stuff like this and it really makes you realize how good you have it sometimes. Sometimes you take things for granted. You really don't understand why people do certain things. Like the Boston situation [marathon bombing in April] and now you have this. It's tough."
Brian McTaggart is a reporter for MLB.com and writes an MLBlog, Tag's Lines. Follow @brianmctaggart on Twitter. This story was not subject to the approval of Major League Baseball or its clubs.