Halton soaking in first big league stint
Halton soaking in first big league stint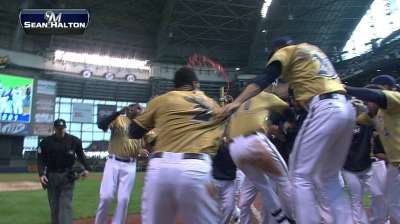 MILWAUKEE -- A day after hitting a walk-off home run to lift the Brewers to a 6-5 win over the Reds, Sean Halton was back to business on Monday.
"It was a pretty exciting day in the household, for sure," Halton said. "Definitely one I'll never forget and I'm sure one my folks will never forget."
The solo home run off Reds reliever Zach Duke was Halton's third this season in his first stint in the big leagues. Halton, who was not in Monday's starting lineup against the Cubs, said he was happy to be contributing along with several other young Brewers.
"I'm really excited to be making an impact and to be a positive force for this team," Halton said. "I think we're all just trying to make an impact and see where we can land."
Caleb Gindl, who started in left field hitting seventh on Monday, is another young player seeing playing time for the Brewers late this season. Gindl's first career home run also came as a walk-off in a 1-0, 13-inning win over the Marlins on July 21.
"We actually talked about that at the hotel," Gindl said. "I said, 'That's awesome, man. You got a walk-off in the show.' He said, 'It could've been my first one.' It doesn't matter. Anytime you get a walk-off, whether it's a hit or a homer, it's a great feeling. Anytime you do something to help the team win."
Halton said Carlos Gomez's catch at the wall in the top of the ninth inning carried the momentum over to his at-bat with one out in the bottom half of the inning.
"You know the old saying, how many times have you seen a guy make a great catch and then he does something with the bat?" Halton said. "This time that catch was so good it felt like everybody made the catch. It was contagious."
Brewers manager Ron Roenicke said he can play Halton at each corner infield position as well as both corner outfield spots.
"He's good at first," Roenicke said. "Now, the other places, he'll play them. I just haven't seen enough of him to know how good he is there. I think he's a nice player."
Can he be a bat off the bench at the big league level?
"The more positions he can play, the better that'll be for him," Roenicke said. "He's a guy that I feel like when he goes out there that I kind of know what I'm going to get from him. And that makes it comfortable for a manager, especially with a young guy."
Adam McCalvy is a reporter for MLB.com. Read his blog, Brew Beat, and follow him on Twitter at @AdamMcCalvy. Kevin Massoth is an associate reporter for MLB.com. This story was not subject to the approval of Major League Baseball or its clubs.