Tuiasosopo looking to turn things around
Tuiasosopo looking to turn things around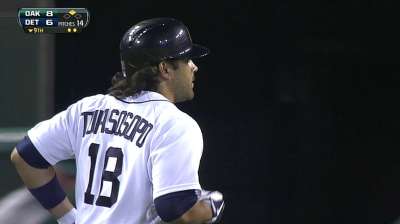 DETROIT -- Matt Tuiasosopo returned to the Tigers' lineup for the first time in more than a week, and he will look to change his fortune after a second half slump.
Before the All-Star break, Tuiasosopo was batting .329 with six home runs and 22 RBIs. Since Aug. 1, he is 8-for-41, all of the hits singles, with three walks and 17 strikeouts. Manager Jim Leyland said Tuiasosopo has been struggling to catch up with fastballs.
"I was just worried about, one, getting a good pitch, and two, putting a good swing on it, those two things," Tuiasosopo said. "It kind of went into, 'I'm going to change my approach to whatever this pitcher I think he's going to do, I'm going to do this on him.' I went got away from that process and that approach."
Until Tuiasosopo entered the starting lineup on Monday, he had been benched in favor of top prospect Nick Castellanos in Detroit's last four games against left-handed pitchers. It's been a conundrum for the Tigers, who are trying to help Tuiasosopo get out of his slump and try to give Castellanos a shot to prove himself.
"[Tuiasosopo has] been working with [hitting coach Lloyd McClendon], and he's been swinging really good lately," Leyland said. "I think he's done a good job for us, and I think it would be unfair to just totally forget him."
With inconsistent playing time, Tuiasosopo is trying to make the most out of his next opportunity. The Tigers are set to face five lefties in the next seven games.
"Sometimes you want to be so perfect that you want to have three or four perfect at-bats," Tuiasosopo said. "You want to hit a home run. If someone's on base, you want to drive them in. You can get out of your approach, and go away from where it needs to be. That's the challenge."
Jason Beck is a reporter for MLB.com. Read Beck's Blog and follow him on Twitter @beckjason. Bobby Nightengale is an associate reporter for MLB.com. This story was not subject to the approval of Major League Baseball or its clubs.