Scuffling Dodgers drop fourth straight
Scuffling Dodgers drop fourth straight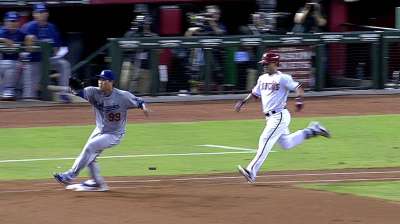 PHOENIX -- No sooner had the Dodgers escaped the wrath of Hunter Pence, they ran right into Paul Goldschmidt.
The Dodgers have been about as helpful to Goldschmidt's MVP campaign as any team could and Hyun-Jin Ryu boosted it some more by serving him a two-run homer in the first inning Monday night of spoiler Arizona's 2-1 win over the Dodgers, whose fourth consecutive loss left their magic number stuck at four.
Goldschmidt has 33 home runs, 116 RBIs and a .301 batting average. Against the Dodgers this year, he has five homers, 18 RBIs and is batting .377. He's 7-for-14 against Ryu, who lost for the fourth time in his last five starts, despite allowing only two hits in an eight-inning complete game. The rookie left-hander is 13-7.
"I threw 100 pitches and one pitch seemed to be decisive," said Ryu, who has allowed seven of 13 home runs in the first inning. "I believe, no matter how good the pitch, if it's a home run, it's a mistake."
Before the game, manager Don Mattingly posted a starting lineup without Hanley Ramirez, Andre Ethier, Carl Crawford and Matt Kemp, then said the mounting injuries remind him of May. The Dodgers then suffered a ninth loss in the last 12 games, going 0-for-8 with runners in scoring position.
The game ended with Kemp -- remember him? -- striking out as a pinch-hitter with runners on second and third. He was activated from the disabled list less than a half-hour before first pitch.
"I think about this game what I always think about September -- it's hard to win a game," said Mattingly. "Don't care who you are or what's going on. That's a good club and they're going to play and we didn't do enough. You see the finish line is so close, but teams are not going to hand anything to you. I don't think it's mental fatigue. It's just close to the goal line and games are tough to win.
"They, all of a sudden, you look at the lineup and you don't have Hanley and you don't have Andre. This is what we did early -- guys weren't in their spots. That's the way it is right now. It doesn't mean we can't win a game."
The offense again struggled, this time against Arizona starter Trevor Cahill. The Dodgers were so out of synch that when Nick Punto led off the game by bouncing a single to center field, he dove headfirst into first base.
Yasiel Puig walked two outs later and Cahill then retired the next 14 batters, a streak snapped when he walked Ryu, of all people, leading off the sixth inning. The wheels then came off for Cahill. Punto doubled (not diving into first), and Ryu stopped at third. Mark Ellis walked on four pitches to load the bases.
After Adrian Gonzalez flied out, Puig walked on five pitches to bring home Ryu and end the night for Cahill and his two-hitter. With Josh Collmenter in relief, A.J. Ellis struck out and Skip Schumaker broke his bat grounding out to second base.
Ryu, meanwhile, turned into Cahill after the first inning, retiring 19 consecutive hitters after Goldschmidt's homer. After some indecision, Mattingly let Ryu bat (and line out) with two outs in the seventh. The streak was snapped by Aaron Hill's two-out single in the bottom of the seventh.
"Ryu had great stuff; he threw the ball well," said Arizona manager Kirk Gibson. "That's as good as we've seen him. We were fortunate but sometimes you've got to win 2-1 games with two hits. Those are good."
The top of the ninth opened with singles by Michael Young and Schumaker. Then Mattingly asked Juan Uribe to bunt, but closer Brad Ziegler fielded the ball and threw Young out at third.
"Juan is a good bunter," said Mattingly. "We just didn't execute. To me, that's the play there."
Nick Buss, starting in the outfield because of the injuries, was allowed to hit and bounced out to move the runners over. Kemp batted for Ryu, fouled off two sinkers, took a curveball for a ball, then waved at an outside curve to end the game.
"I felt good with Matt up there," said Mattingly, who earlier said Kemp would be limited to pinch-hitting until he can run without hesitation. "It wasn't a Spring Training at-bat. I had no real concern about using him there."
Gonzalez remained the voice of reason for a team with a 9 1/2-game lead and 12 games to play.
"We're going to win our games," he said. "We've just got to stay patient. A few guys are down right now, but we definitely will make it happen. We're in the driver's seat. We've got guys that need to get healthy. The good thing is, in two weeks they'll be healthy."
Ken Gurnick is a reporter for MLB.com. This story was not subject to the approval of Major League Baseball or its clubs.