Pinto having success while learning on the job
Pinto having success while learning on the job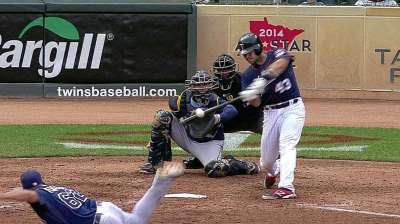 CHICAGO -- Every day in the big leagues has been a learning experience for Twins catcher Josmil Pinto so far.
Pinto, who was recalled from Triple-A Rochester on Aug. 31, has made the most of it, especially offensively, hitting .405 with five doubles and two homers in his first 11 games. His biggest contribution came on Sunday, when he hit a go-ahead three-run homer in the eighth inning off Rays reliever Joel Peralta to lead the Twins to a 6-4 win.
But defensively, he's been more of a work in progress, still working on his receiving skills such as pitch framing -- he often moves with the pitch instead of just moving the glove -- and pitch calling.
But Twins manager Ron Gardenhire has been impressed with his work ethic, as Pinto is in constant communication with bench coach and former big league catcher Terry Steinbach before, during and after games.
"Obviously, he's doing fine," Gardenhire said. "He has things to learn. Steiny is right there with him every step of the way. He talks to him between innings about situations and things. He's anxious to learn and do it right. And that's the good thing about having Terry Steinbach as one of our coaches."
Pinto, a native of Venezuela, is also trying to improve his English, as he's working to get better at communicating with the pitchers and his coaches. He's able to do some basic interviews with reporters in English, but he prefers to use a translator for now. But it's another thing he'll work to improve on this offseason, as he's set to head back to his native Venezuela to play winter ball.
"The only thing I've really ever tried to do is learn every day the things people taught me and go out and play the game hard," Pinto said through translator and Twins first baseman Chris Colabello. "Those are the things I can control."
Gardenhire said this month is key for Pinto, as he's been getting constant playing time with Joe Mauer still out since sustaining a concussion on a foul tip on Aug. 19. Mauer has been working out at Target Field, but there's still no timetable for his return, although there remains a chance he could join the team on its current road trip through Chicago and Oakland.
"We think he has the chance to be an everyday catcher," Gardenhire said about Pinto. "With Joe-Joe out, this is an opportunity for him to get playing time. Hopefully, he continues to take advantage of it like he did [Sunday]."
Rhett Bollinger is a reporter for MLB.com. Read his blog, Bollinger Beat, and follow him on Twitter @RhettBollinger. This story was not subject to the approval of Major League Baseball or its clubs.