Marshall aims to prove himself after activation from DL
Marshall aims to prove himself after activation from DL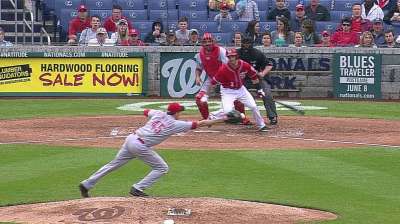 HOUSTON -- It's a day that's been a long time coming for Reds left-handed reliever Sean Marshall: activation.
"It's a nice word," Marshall said.
The Reds on Monday activated Marshall, and starting pitcher Johnny Cueto, from the 60-day disabled list. Marshall had been out since May 24 with a sprained left shoulder, and he suffered a bout of tendinitis in July during his rehab effort.
"It's been a long time," Marshall said. "I'm very excited and I feel good. I look forward to getting into some games here and helping us win some games."
The Reds gave Marshall the option of going to Arizona to face prospects in instructional league games, but that would have added a lengthy plane ride west and a lesser caliber of hitters to face.
"I told them I thought I was ready," Marshall said. "I felt really good after my last live BP session. I felt like I could compete against some hitters in the game. They gave me the green light. I was thankful they did."
Marshall is a veteran and was a key setup man before his injury. Months of no games pitched and the presence of two lefties in Manny Parra and Zach Duke means his status is a little different, according to manager Dusty Baker.
"Right now, he's the third lefty," Baker said.
After Monday, the Reds will have only 11 games remaining and little time for Marshall to show on the mound that he could be ready for inclusion on a postseason roster. He said he is ready to prove himself.
"I've been out since the end of May. Hopefully I won't be rusty when I get out there," Marshall said. "If I am, I will work my butt off to shake it off. We've had some guys pitch extremely well, guys that have stepped up big -- not only left-handers, but our right-handers like Sammy [LeCure] and [Alfredo] Simon have done a great job filling some voids."
The notion of returning on the same day as Cueto felt right to Marshall. Cueto, who went on the DL for the third time this season on June 29 because of a strained right lat muscle, was Marshall's rehab partner at the Beacon Orthopaedic facility.
"We've been going through this whole process together," Marshall said. "We were pushing each other. I'm real excited he's pitching today. He's worked extremely hard in trying to get back as soon as he could."
Baker was pleased to have two key members of his pitching staff back at his disposal.
"It's progress, big time," Baker said. "I'm just hoping that we can win some games and get them prepared to make a decision in a couple of weeks. And they can contribute while they're here. We haven't won anything yet. We've got to put some wins together."
To make room on the 40-man roster for Marshall and Cueto, right-handed pitchers Josh Ravin and Kyle Lotzkar were designated for assignment.
Mark Sheldon is a reporter for MLB.com. Read his blog, Mark My Word, and follow him on Twitter @m_sheldon. This story was not subject to the approval of Major League Baseball or its clubs.