Cozart, Cueto draw Reds closer in NL Central
Cozart, Cueto draw Reds closer in NL Central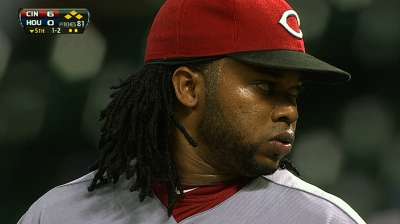 HOUSTON -- Following 2 1/2 months on the disabled list, Reds ace Johnny Cueto has only a scant amount of days to show he can still help his team down the stretch, and possibly the playoffs.
The most important part of the Reds' 6-1 victory over the Astros on Monday was that Cueto showed no outward signs of discomfort from the strained right lat muscle that put him on the DL three times this season.
A close second behind his good health was Cueto's very good results. He dealt five scoreless innings on five hits with one walk and five strikeouts, while throwing 82 pitches.
"It's good to see Cueto come back and throw like he did," said Reds shortstop Zack Cozart, who had a four-RBI night. "We think if he can come back and pitch like he has when he was healthy, we're obviously getting a No. 1 [starter] back. Not a lot of teams can say that. I'm pumped to have him back. He's fun to play behind."
No one was having more fun than Cueto on the mound.
"I don't have words to describe it. It's a really amazing feeling for me," Cueto said via translator Tomas Vera. "For that long a time without pitching, and I came into today feeling really great. I feel really good today."
Cueto's return came on a night when the stars seemed to align for once in the Reds' favor. Losses by both tied first-place teams in the National League Central, the Cardinals and Pirates, put third-place Cincinnati 2 1/2 games back with 11 left to play in the regular season.
Of the five hits on Cueto's line, two were infield singles and two others were soft singles on the ground. Following Houston's first hit -- a Jose Altuve one-out infield single in the first inning, Cueto immediately got Trevor Crowe to bounce to a perfectly positioned Cozart for the double play.
In the second inning, Chris Carter sharply lined a two-out double to left field. The inning ended when Carlos Corporan flied out to the warning track in right field.
"We just hope that he continues to be well and continues to get better and his endurance gets better," Reds manager Dusty Baker said. "That's a tremendous shot in the arm, and boost for our team."
As far as velocity, Cueto's fastball was generally in the 91-94 mph range and he touched 95 mph once. The Astros discovered quickly that Cueto did not appear to pitch like a guy who missed so much time. His last start was June 28 at Texas, when soreness under his arm ended his night after only one inning.
"He looked pretty effective," Astros manager Bo Porter said. "It's one of those things where a guy misses a lot of time, you think to yourself that maybe he's going to be rusty, maybe he's going to have a hard time finding the strike zone, but he didn't have any of those ill effects."
The Reds gave Cueto plenty of support, namely from Cozart, who hit a 3-1 Erik Bedard changeup for a two-run home run to left field with two outs in the second inning.
In the top of the fourth, Joey Votto's leadoff single and back-to-back walks loaded the bases with no outs. Cozart ripped a one-out single to right field for two more RBIs. Against Lucas Harrell with the bases loaded in the fifth and one out, Jay Bruce hit a two-run single up the middle that made it a 6-0 game.
Cueto took a pitch count of 59 into the bottom of the fifth, when he showed his first signs of trouble. Corporan bounced a soft one-out single into left field, followed by Hoes' infield hit to the shortstop. A two-out walk to Jonathan Villar loaded the bases and brought Reds pitching coach Bryan Price to the mound for a quick chat.
"We had our fingers crossed," Baker said. "We really took him about 10 pitches more than we had wanted to."
With the Reds' bullpen stirring, Cueto bore down and with his 82nd pitch, struck out Altuve with an 85-mph slider to end the threat.
"Bryan came out and told me, 'This is your last hitter,'" Cueto said. "So I was one out away and he's a great hitter, so I have to make an out no matter what. When I did it, I felt really happy."
Alfredo Simon took over for the sixth and gave up a leadoff double to Crowe, who later scored on Matt Dominguez's RBI groundout to second base. Simon pitched a solid three innings of relief.
The Reds have proceeded with extra caution in bringing Cueto back after setbacks marred his two earlier returns. He threw two simulated games and several bullpen sessions before getting the green light to be activated from the DL.
There was only a slight adjustment to the twist in Cueto's delivery, which wasn't believed to be the cause of his injury issues.
"We knew when came back too soon twice," Cozart said. "We could tell by his stuff out there that he didn't feel right. You could see tonight that he feels healthy. He wanted to go further than the five innings."
Cueto believed his injury was finally behind him for good. It's not yet known when his next outing might be. He is not listed to pitch in the next series vs. the Pirates.
"Right now I feel normal," Cueto said. "I feel like I just finished Spring Training. I feel healthy. I feel strong. I feel good."
Mark Sheldon is a reporter for MLB.com. Read his blog, Mark My Word, and follow him on Twitter @m_sheldon. This story was not subject to the approval of Major League Baseball or its clubs.