Bedard struggles in shift from 'pen to rotation
Bedard struggles in shift from 'pen to rotation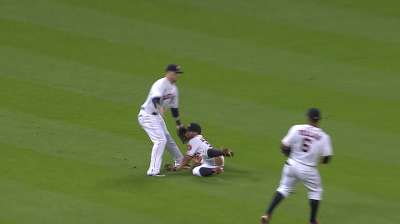 HOUSTON -- Had it not been for the presence of a designated hitter, it would have been hard to believe the Astros were their playing longtime rival Reds for the first time as members of different leagues Monday night at Minute Maid Park.
The Astros have faced the Reds more times than any other team in their history, stemming from their time together in the National League West and later the NL Central. The Reds have dominated the series in recent years, and they kept that going against the American League version of the Astros.
Reds shortstop Zack Cozart drove in four runs, including a two-run home run in the second inning off starter Erik Bedard, to hand the Astros their 99th loss of the season, 6-1, in the 840th meeting between the clubs.
Johnny Cueto came off the disabled list and picked up his first win since June 16 by throwing five scoreless innings, allowing five hits and one walk. It was his first appearance since June 28 when he faced the Rangers.
"He looked pretty effective," Astros manager Bo Porter said. "Again, it's one of those things where a guy misses a lot of time, you think to yourself that maybe he's going to be rusty, maybe he's going to have a hard time finding the strike zone, but he didn't have any of those ill effects."
After hitting .362 (47-for-130) with runners in scoring position in the first 13 games of the month, the Astros are 0-for-9 in those situations in their past two games, including 0-for-5 on Monday. The biggest out came in the fifth, when Cueto finished his night by striking out Jose Altuve (2-for-4) to strand the bases loaded and preserve a 6-0 lead.
"He made some good pitches and ended up getting him to expand his zone once he got to two strikes and got the big out," Porter said. "We had some chances to chop away at their lead, and unfortunately their pitchers made good pitches during those times. And the balls that we did hit hard, they were able to make plays."
Brett Wallace hit a pair of rockets to deep center that were nothing more than outs, and Brandon Barnes hit a laser down the third-base line in the fifth that Todd Frazier smothered and prevented at least one run from scoring.
"Wallace had about 450 feet worth of outs," Reds manager Dusty Baker said. "Anywhere else, those balls are way gone some place."
Bedard (4-11), starting for the first time since Aug. 21, threw 70 pitches across four innings and allowed four runs and four hits while striking out six batters, including four of the first six batters he faced. The lefty is 0-7 with a 4.86 ERA in his last 10 starts.
"Early on, I was throwing a lot of strikes and just trying to get ahead and get them out quickly," Bedard said. "I had a quick third and then the fourth was a little long, and I was just getting tired and gave up a couple of walks."
Cozart's two-run homer in the second came with two outs and scored Jay Bruce, who led off the inning with a single. Bedard loaded the bases with no outs in the third by allowing a single to Joey Votto and issuing a pair of walks before he struck out Frazier. Cozart followed with a two-run single to make it 4-0.
Bruce put the Reds ahead, 6-0, in the fifth inning with a two-run, bases-loaded single off Lucas Harrell, who gave the Astros a lift by throwing five innings and holding the Reds to two runs and three hits. He had his good sinker working and got eight groundouts.
"I've worked on some stuff and watched some video and [I'm] just trying to be more consistent," Harrell said. "I thought today the thing that worked for me the best was getting strike one, getting ahead. Any time I'm behind, it's always been a thing where I've struggled, so I think the main focus right now was to get ahead."
Harrell, who was the Astros' most effective starter a year ago and was yanked from the rotation midway through this season, knows how important a strong finish would be for him.
"I've said this all along, I want to start here next year and I want to be one of the guys that helps lead the team to a win," Harrell said. "This year, I had a lot of goals in mind and didn't really pitch well. It's one of those things I kind of beat myself a lot and I've got to get back to doing some of the things I did last year to make sure I have a chance to make the team next year."
With Cueto (5-2) out of the game, the Astros broke through against reliever Alfredo Simon. Trevor Crowe led off the sixth with a double and scored on a groundout off the bat of Matt Dominguez. The Astros managed one hit the rest of the way.
"It's obviously not ideal when you hit balls hard and they're right at people, but it's part of the game and you give them credit; they made pitches when they needed to," Wallace said. "We have to keep grinding out our at-bats and if we keep hitting them hard, they'll fall."
Brian McTaggart is a reporter for MLB.com and writes an MLBlog, Tag's Lines. Follow @brianmctaggart on Twitter. This story was not subject to the approval of Major League Baseball or its clubs.